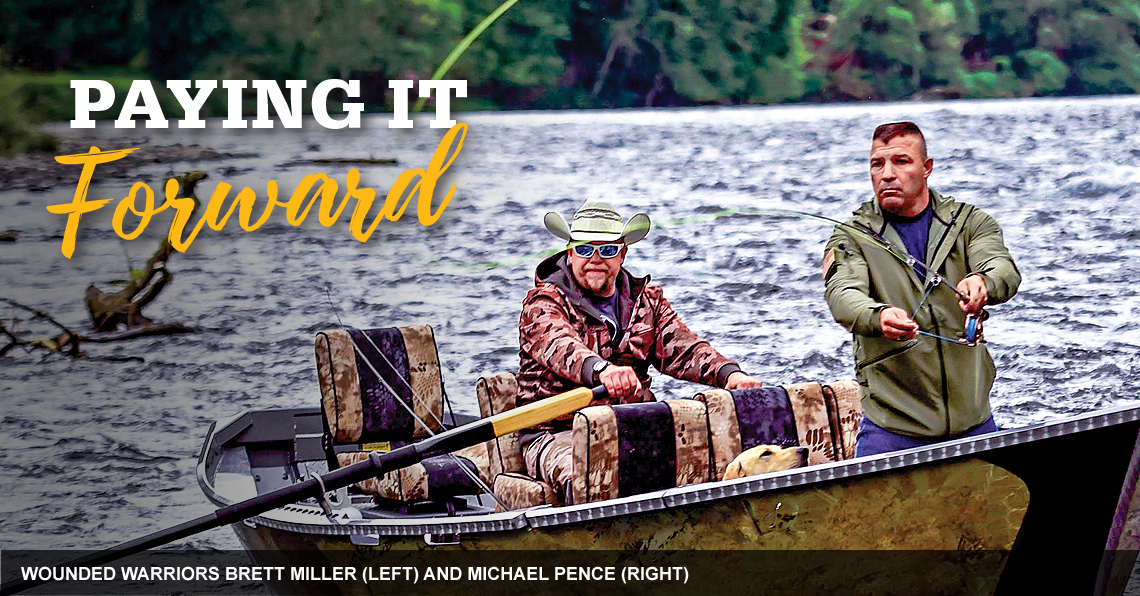 Brett Miller has always found fishing therapeutic.
That therapy is intensified when Brett treks into the wilderness with other warriors. Not only does the calm of nature provide serenity, the rediscovery of pre-military hobbies like hunting and fishing helps Brett and his fellow warriors reconnect with their former selves. When a community service component is added, the experience is even more profound, as warriors find a renewed sense of purpose.
Brett first realized the healing power of outdoor activities when he took a fishing trip with a former Army commander who was struggling with post traumatic stress disorder (PTSD). The experience opened Brett's eyes to the fact that he wasn't the only one who could benefit from being immersed in the great outdoors.
"When he came on the trip, he was near death from kidney and liver failure, because he'd been drinking to cover up his PTSD," says Brett. "That trip saved his life."
Brett understands the struggles of warriors like his former commander because he, too, lives with PTSD. So in 2013, Brett decided to put his expertise to good use by forming Warfighter Outfitters, a nonprofit organization that takes veterans on hunting, fishing, and community service trips.
"At first, it didn't really feel like it was going anywhere, but I was having fun and enjoying it," says Brett. "I could see the change in some of these guys, and it really sank in for me - I'm doing something good, no matter how big it gets."
Brett has always felt his purpose was to give back. When his military service and 17-year career as a firefighter ended, helping fellow warriors reignited that sense of purpose.
"I had the time; I had the ability; I had the experience for outfitting," he says. "I decided I would be a part of it or I would watch it happen. I couldn't sleep at night knowing there were guys and girls who needed a weekend to get themselves out there."
Warfighter Outfitters has grown to serve more than 2,000 warriors each year, and veterans impacted by Brett's events are the first to praise the impact these trips have on their recovery.
"I feel more alive, and I feel like I can still run a team. I feel like Sergeant Perez again," said wounded warrior Joe Perez after attending a Warfighter Outfitters service trip to Yellowstone National Park. "All these things bring out my self-worth and pride. For a disabled veteran, that is everything you need in order to heal and enjoy life."
Though fishing, hunting, and service projects are excellent opportunities for fun and healing, Brett says the real difference is usually made before the fun begins.

"The biggest thing, ironically, is the two-to-six-hour ride to the [activity] with eight people in a truck," he says. "They are complete strangers, have never met each other before, yet all have the same common ground. Being all veterans, there's no elephant in the room. By the time the [project begins], you'd swear those veterans had been friends their whole lives. These warriors come home with a lot more than just a hunting, fishing, or service trip; they come home with friends."
For many veterans, finding a common connection and realizing you're not alone is the first step toward a comprehensive, meaningful recovery, and that connection is just what Brett aims to provide. Fishing, hunting, and service projects are just the incentives to draw veterans out of their homes and help them form the life-altering social connections that change and save lives.