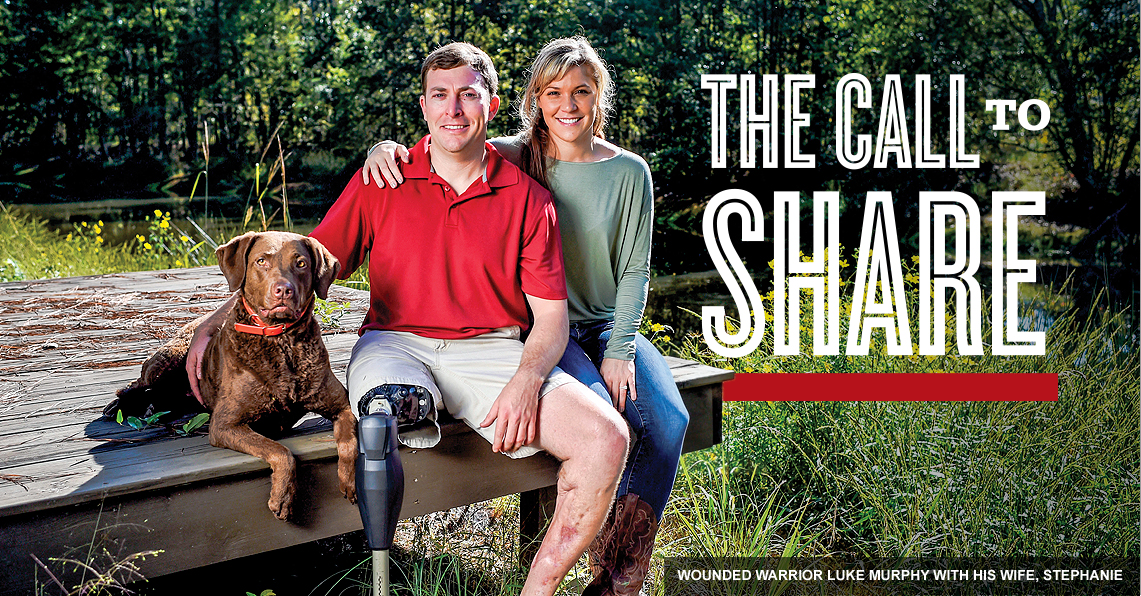 Luke Murphy feels a duty to share his story.
When the U.S. Army Staff Sergeant was at Walter Reed National Military Medical Center recovering from an improvised explosive device (IED) blast that cost him his right leg and severely damaged his left, he met other warriors who didn't know how they'd ended up in the hospital.
"Often times, in the heat of battle, you're throwing a guy in a Humvee or a chopper. You don't know how he is, you don't know what happens," says Luke. "I was very curious; I wanted to stay awake to see what was going on. When I got to Walter Reed, I was amazed how many people didn't know what happened. They just woke up there."
Hearing those stories served as inspiration to share his experiences. He started talking in front of audiences around the country, and though he considered writing a book, in Luke's own words, he's "a storyteller, not a writer."
"A lot of guys would come up to me [after my speech] with tears in their eyes," says Luke. "They saw what I saw; some saw a little more. And I realized they were happy I was telling my story."
These powerful emotional responses convinced Luke that writing out his story was the best way to share his experiences and inspire others to share theirs. With the help of co-author Julie Bettinger, Luke began working on a book. The two spoke on the phone for three to four hours every night – for roughly nine months – as Luke outlined his entire story.
"She got some stuff out of me that I would never have written down," says Luke.
The result was a more than 250-page chronicle of Luke's entire life. The IED blast takes up just four pages – proof the injury doesn't define Luke, but is just part of his life's story.
The next step toward making his newfound dream a reality was getting his book into people's hands. Luke worked with a San Francisco publisher, Inkshares, which organizes crowdfunding for book projects.
"We didn't do it to get rich," says Luke, who published the book, "Blasted by Adversity," in May 2015. The purpose was to shine a light on his experiences and, by doing so, hopefully motivate others to find emotional healing by sharing their stories. From that perspective, it's been a success.

Luke continues to tell his story regularly and encourages his fellow veterans to do the same.
"The healing process starts by talking about it, and our stories need to be told. We gotta tell our stories for those who aren't here to tell them. We talk about how the greatest casualty is being forgotten™; well if we don't tell our stories, they're going to be forgotten."