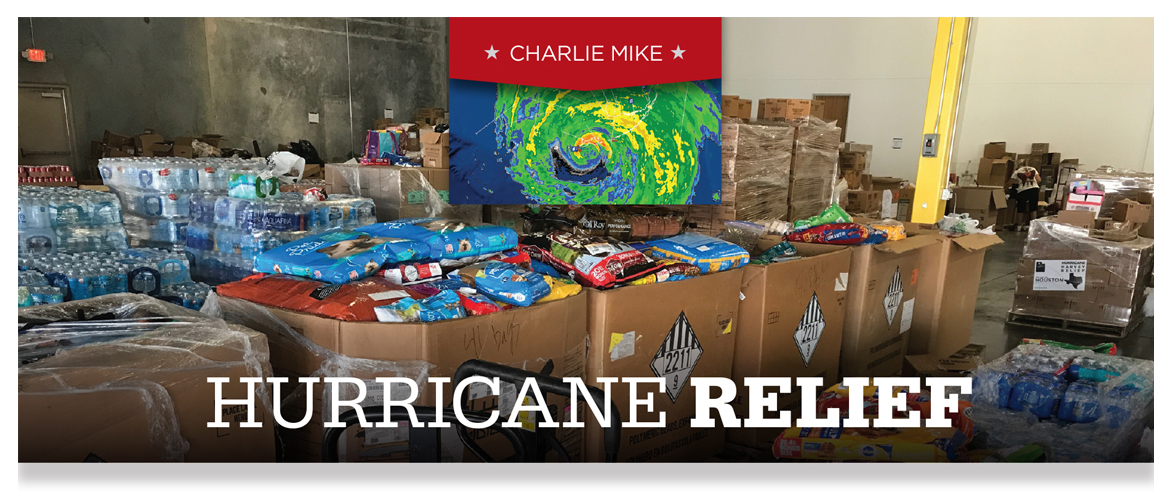 Community service is a common thread among veterans. For many, the ability to continue serving after leaving the military helps with the transition to civilian life. When hurricanes Harvey, Irma, and Maria battered parts of the United States in 2017, it came as no surprise that wounded warriors were among the first people to help.
"In basic training, the first line they throw at you is 'you're leaders,'" says wounded warrior Frankie Perez. "We still need to be leaders to help the next generation learn why it's important to give back!"
Along with a small team of warriors and WWP staff members, Frankie helped impact more than 1,000 families by going door-to-door in Puerto Rico to provide water, food, and financial support in the wake of Hurricane Maria.
"If we have the opportunity to do good, why not help?" says Frankie. "Just two to three hours can make a big impact on other people's lives, and also on your own."
Warriors outside Puerto Rico also stepped up to help. In Palm Coast, FL, wounded warrior Carlos De León connected with WWP and local nonprofit City Streets 2 Student Athletes to collect food, water, clothing, and personal hygiene products for the people of Puerto Rico. Carlos, who spent part of his childhood living in Puerto Rico, also bought plane tickets for his displaced family members to bring them to Florida.

A few weeks earlier, Hurricane Harvey struck Texas as the wettest tropical cyclone in U.S. history, causing widespread flooding. Wounded warrior Paul Delacerda saw the damage first-hand, working with the sheriff's department and National Guard to rescue people who were trapped by rising flood waters.
"Everyone put their differences aside," says Paul. "Nobody cared about your background because the water didn't care, either. It didn't care if you were living in a cardboard box or a million-dollar house – it was coming."
Paul was also involved in a humanitarian aid effort during the storm that would eventually turn into a full-fledged nonprofit organization – Regular Guys Crisis Response. Started in a garage by one of Paul's friends, the group, many of whom are veterans, managed to collect and deliver over 325,000 tons of goods to people in need throughout Texas, Florida, and Puerto Rico. They were recognized by the Governor for their efforts.
"I just felt like I needed to do it," says Paul. "I was built for that after being in the military. You don't think about it; you just do it."
Many veterans joined the military to be part of something bigger than themselves, to serve others, or to give their lives purpose. Through community service, these warriors often realize they can still fulfill their inner desires despite no longer wearing a military uniform.
"We had tons of veterans out there with me," says Paul. "Everyone felt like they had a purpose to do things again."