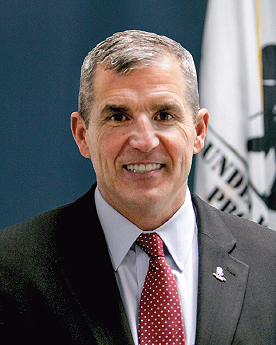 EXECUTIVE MESSAGE
Team WWP
When I came to Wounded Warrior Project® (WWP), I became part of an unbelievable team made up of warriors and their families, co-workers, volunteers, and other veterans service organizations. Every single one of my teammates inspires me to be at my best, and I'm grateful for the opportunities I get to spend time with them and for the camaraderie we share.
For many warriors returning home, no longer having the kinds of strong teams they had in the military leaves them feeling lost and alone. In this issue of After Action Report, you'll learn how the WWP Combat Stress Recovery Program (CSRP) provides warriors coping with post-traumatic stress disorder (PTSD) and traumatic brain injury (TBI) with a new team to help them on their paths to recovery.
For Manny Colón, a WWP event was a positive turning point that had a major impact on his life. It's where he teamed up with other warriors he could relate to and share experiences with. There's no question his story of overcoming PTSD while bravely fighting cancer will inspire others to face their issues and find new teams of their own to help in their recoveries.
Later in this issue, you'll read about the unbelievable teamwork involved in caring for the most severely injured warriors. I've had the honor of meeting with the Schei family, and I can tell you that what they face on a day-to-day basis in caring for their warrior, Erik, is the reason that our caregiver initiatives and the WWP Independence Program are so critically important. With more and more warriors needing care every day, we are committed to enhancing our programs and services and moving forward with new initiatives to meet the changing needs of warriors and their families.
We also continue to advocate for warriors and help them and their families get the benefits they deserve. Working to secure the benefits you have earned and deserve can be a complex process, and our Benefits Service team is here to help every step of the way.
I'm proud to lead the WWP team in service of our nation's wounded warrior population, and humbled by all this great organization continues to accomplish. We're here for you, and we look forward to continuing to serve you in the months and years to come.
Sincerely,

Michael Linnington
CEO, Wounded Warrior Project
Lieutenant General, U.S. Army, Retired