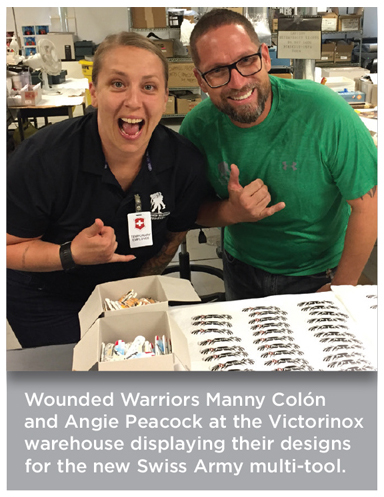 The support and creativity of Wounded Warrior Project's strategic partners often allow us to serve veterans in unique ways. In 2017, one of WWP's partners, Victorinox Swiss Army®, had an idea. What if we created a design contest to allow warriors to create the next set of multi-tools to be offered through the Victorinox and WWP partnership?
We thought it was a great idea, and so did our warriors! All of the designs turned out great, and ultimately the public voted for two winners – wounded warriors Manny Colón and Angie Peacock.
Manny's design is called the Eagle Tinker and it is based on a series of experiences during his service and recovery. Manny, who lives with service-connected stage IV cancer, post-traumatic stress disorder (PTSD), traumatic brain injury (TBI), and diabetes, has always loved eagles.
"I have always felt a strong connection to eagles, the sign of country and courage," says Manny. "While in the military, we would paint animals on our faces before combat missions. I always chose to paint an eagle on mine. Then, during my recovery, I repeatedly saw an eagle in my backyard when I returned from medical treatments. That was my inspiration."
Angie's design is called the Courage Tinker and represents memories from her time in service with the U.S. Army.
"The sunset behind helicopters stands for the hope I felt in Baghdad that we would make it out safely," says Angie.
"The flag represents those we lost. Our lives stand as memorials to them. The uniform is what set us apart, having to be courageous every single day on the battlefield. I chose courage because I feel as if that word has been stamped on my life. It takes courage when you're in a war zone, but it also takes courage when you come home, to heal."
As contest winners, Manny and Angie had the once-in-a-lifetime chance to visit the Victorinox factory to see their designs come to life. They were both able to assemble their own multi-tools, creating the first-ever items featuring their artwork. Manny and Angie got to keep the first copy of each design, but the rest are now available for purchase – with a portion of the proceeds going back to WWP to help other wounded warriors.
"We are proud to continue our partnership with Wounded Warrior Project, and are pleased with how the natural connection between the two brands has developed into a very collaborative relationship," says Victorinox Swiss Army, Inc. President Hilary Hartley. "We are always seeking new and exciting ways to support one another, and I believe the design contest, which gave wounded service members the opportunity to design their own Swiss Army Knife, is a perfect example of not only supporting WWP, but shining a spotlight on the individuals who benefit directly from the services WWP provides. We are honored to be partnered with such a tremendous organization, and are motivated each and every day as we work to help further their mission."