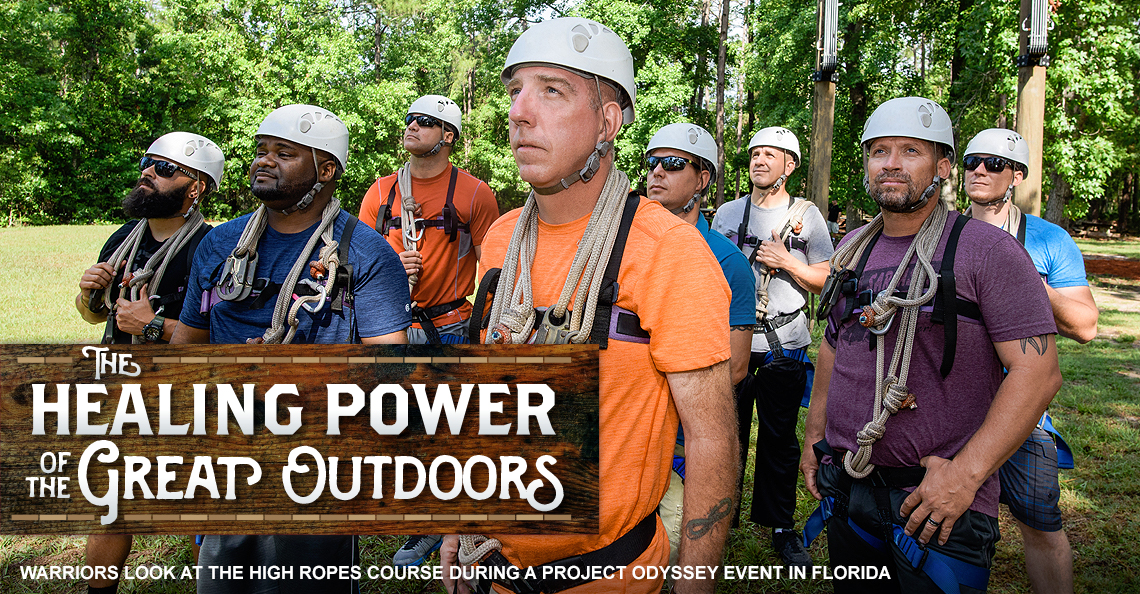 "When I got out of the Marine Corps in the 1990s, I struggled with PTSD," says WWP National Service Director John Roberts, who helped develop Project Odyssey. "Back then, the only option was the VA. It was either talk therapy or medication, and I wasn't a big fan of either one. There wasn't anything out there offering a peer-to-peer connection. I wanted these young warriors to have somewhere to turn."
So, in 2007, John and WWP leadership worked to create a special, PTSD-focused program — and Project Odyssey was born.
"It wasn't until midway through the first Project Odyssey in 2007 that I was like, man, this thing works," says John. "What did we do and how do we recreate it?"
For the past decade, WWP staff members have been hosting Project Odyssey all over the country, providing peer-to-peer connections and mental health support to as many warriors as possible. All Project Odysseys are multi-day, adventure-based mental health workshops that teach warriors new tools to help on their journeys to recovery from combat stress, PTSD, and other invisible wounds.
"I met other guys just like me, who were at the bottom of the well," says wounded warrior Jason Foster. "Wounded Warrior Project threw down a rope and helped pull us out. They gave us the tools we needed to begin our recovery."
Though Project Odyssey is meant to help warriors find resiliency in their transitions from military to civilian life, it's also designed to be fun. A typical Project Odyssey day starts with team-building exercises, followed by a fun activity like whitewater rafting, a group discussion, and psychoeducational activities.

Activities vary, as do locations. If you're on a Project Odyssey in Florida, you may partake in beach activities like kayaking or surfing. If you're on a Project Odyssey in Utah or Colorado, you may end up skiing or hiking. Regardless, you'll have a chance to try new things while comfortably surrounded by your fellow warriors.
"Project Odyssey is special, because it presents challenges to you — things that you may never have experienced before," says wounded warrior Chris Gordon. "You get to challenge yourself, conquer obstacles, and meet new veterans who could become lifelong friends."
The activities at a Project Odyssey are designed to help warriors increase their self-confidence and ability to cope and to teach them to think before reacting in difficult situations. By teaching warriors coping and resiliency skills adapted to their everyday lives, warriors increase their psychological well-being to help them face challenges presented at home, in relationships, in the workplace, and in their communities. "Project Odyssey shows me I can accomplish things and take on challenges regardless of my physical or mental disabilities," says Chris. Project Odysseys are held with all-female and all-male groups to ensure warriors have a comfortable environment in which to heal.
"It was the first time I got to build a connection with female veterans who had been through similar experiences," says wounded warrior Angie Peacock. "In four short days, Project Odyssey helped me heal some wounds I'd been working on for a decade."
There are also couples Project Odysseys, designed to help warriors and their spouses strengthen their relationships.
"The couples Project Odyssey helped my wife and me understand each other," says wounded warrior David Camacho. "We met other couples and shared ideas, opinions, and experiences. We got the emotional and life skills to manage the frustration, depression, and stress that comes from dealing with everything."
Success at Project Odyssey varies from warrior to warrior. For some, like Jason, just getting out of a car can be a big step.
"My wife pushed me out of the vehicle to go to Project Odyssey," says Jason. "I had spent three months prior in the house. I was scared of who I had become and didn't want the world to see me. Then I realized there were other warriors dealing with exactly what I was dealing with. There were people on my left and right looking out for me, and we still keep in touch to this day."
For others, progress may come from talking to someone new or conquering a high ropes course. Warriors have the ability to choose what challenges they're willing to undertake, so they can get more comfortable doing a bit more every day, expanding their tolerance for uncomfortable situations or feelings.
"That was a first for me post-injury, going up a net like that," says Chris about the high ropes course. "It took me a little bit longer than everybody else, but I knew I could do it. Hearing everybody cheer for me, I was like, 'Yeah, I can't stop now. I have to keep going.'"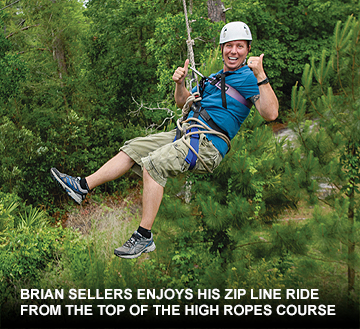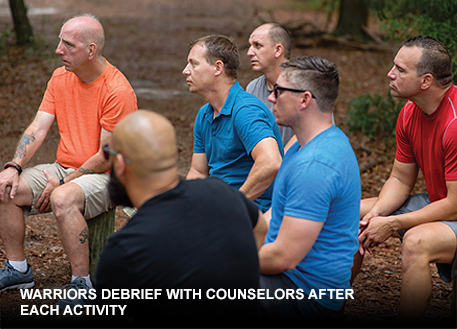 The program ends with the establishment of SMART goals — an acronym for specific, measurable, attainable, relevant, and time-bound — which are set with the intention of providing warriors something to work toward after returning home from Project Odyssey. The WWP teammates who worked with the warriors on Project Odyssey commit to a 90-day follow-up program to help warriors achieve their goals, connecting them with additional resources as needed. Goal-setting and accountability — along with the ability to connect warriors with a myriad of additional WWP programs — are what separate Project Odyssey from other adventure-based programs.
The impact of Project Odyssey speaks for itself.
"If it weren't for Project Odyssey, I would not be here today," says Jason. "Those five days I got to spend with my brothers were the first five days I saw hope in years. It was the first time I felt like maybe it was okay not to be okay. It changed my life."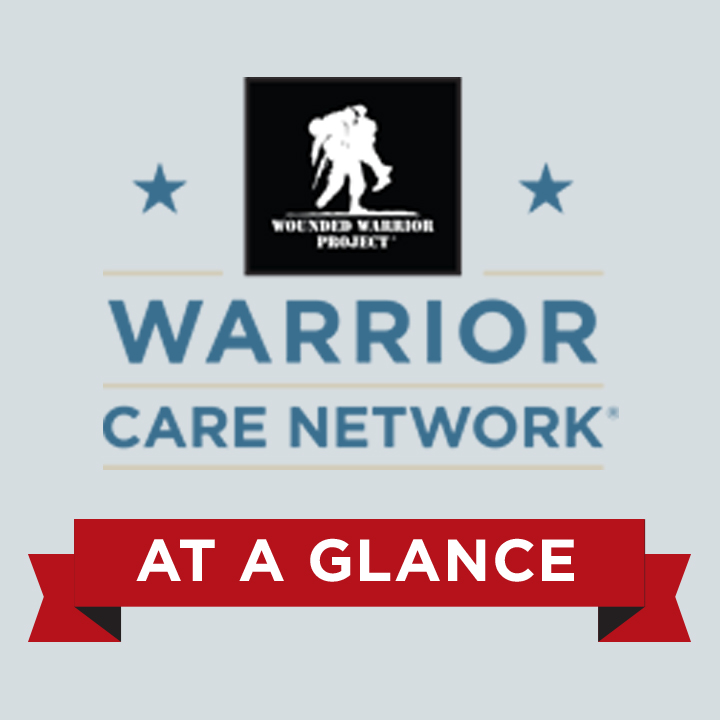 Who is eligible?
Warrior Care Network is open to veterans who live with invisible wounds as a result of post-9/11 military service. This program is not meant for warriors in crisis, and participants cannot be in detox from alcohol or drug addiction. Warriors must also be able to make a two- to three-week commitment to complete the program in its entirety.
What is it?
Warrior Care Network provides warriors with world-class outpatient mental health care at no cost to the warrior or the warrior's family.
The program is available to warriors regardless of geographic location. Travel will be provided from your home to one of the four academic medical centers below.