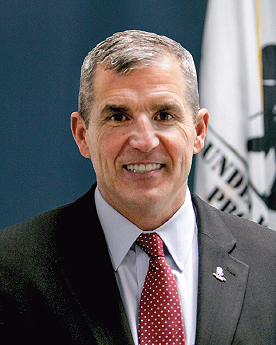 EXECUTIVE MESSAGE
Peer-to-Peer Connection
Like many of you, connecting with my fellow warriors has always been something that brings me great joy. Whether exercising at a Physical Health & Wellness (PH&W) expo, participating in a Soldier Ride®, or attending events with those we serve, every moment spent with warriors is one I'll remember. No matter the conversation, there's an instant connection, a camaraderie we can find only with one another.
Connecting with other warriors isn't just enjoyable; it's vital to the continued recovery of wounded warriors. In this issue of After Action Report, you'll read about one of our programs, Project Odyssey®, which was created to help warriors connect and overcome post-traumatic stress disorder (PTSD) together. These two- to three-day mental health workshops are designed to kick-start your recovery in a safe, supportive, and fun environment — and along the way, you just might make some lifelong friends.
Finding like-minded friends was certainly a key piece of Antoinette Wallace's recovery. I've spent time with Antoinette at many WWP events, and she's a remarkable warrior who is overcoming her PTSD to do great things. It took a great deal of courage for her to share her story with all of you, and there's no doubt it will go a long way toward helping other warriors realize they can find acceptance and belonging by connecting with one another.
At WWP, we facilitate warrior connections in many ways. We also strive to be on the forefront of new initiatives that can help warriors better connect with one another — as we've done with recent video game events, which you'll read more about in this issue. At these gaming events, warriors and family support members can connect in person as well as remotely, by playing games with one another online. We're excited to continue to roll out more events like this, and we always welcome your suggestions for innovative ways to serve warriors and their families.
We also continue to partner with other veterans service organizations (VSOs). These vital relationships help warriors and their families gain access to a variety of programs they may not otherwise know about, whether through WWP or one of countless other impactful VSOs. It's a win-win, so we'll keep growing these partnerships and adding to the network of support whenever possible. If you haven't connected with other veterans yet, I encourage you to do so as soon as possible. Whether through WWP or another organization, just getting out of the house and spending time with other warriors or family support members can make all the difference.
Sincerely,

Michael Linnington
CEO, Wounded Warrior Project
Lieutenant General, U.S. Army, Retired