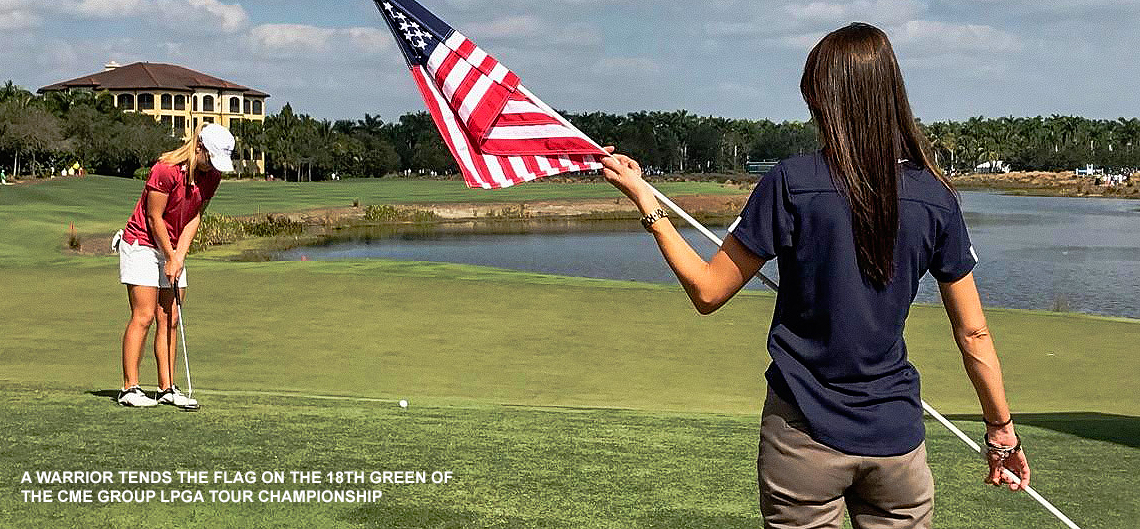 Partnering In The Mission
We're always humbled by the support of our strategic partners —organizations that help honor and empower wounded warriors by contributing in any way they can. For many partners, engagement with Wounded Warrior Project is much more than a donation. They strive to find unique ways to raise money and awareness while also providing one-of-a-kind experiences for warriors.
Such is the case for CME Group and the Ladies Professional Golf Association (LPGA), which continue to support our nation's injured service members by providing funds, awareness, and once-in-a-lifetime opportunities on the golf course. At the LPGA CME Group Tour Championship in Naples, Florida, WWP warriors are empowered to tend the flag on the 18th green and meet the golf pros as they finish each round.
"It was beautiful when I arrived," says Jessica Lynn Daubenmire, U.S. Air Force veteran and wounded warrior. "There were clear skies and a minor chill — perfect fall weather. One by one, the pros would come up to the hole I was working. A few of them signed autographs and even gave some of us mementos like golf gloves, club covers, or signed golf balls."

For warriors, flag tending is more than just an opportunity to be out on the course — it's an important part of recovery from the visible and invisible wounds of war.
"I was a little nervous meeting the players and the other warriors, but it was an excited kind of nervous," Jessica says. "It gave me a chance to face a fear — large crowds. It's a struggle for me, but I like challenging myself. WWP staff constantly checked on us to make sure we were doing all right and enjoying ourselves. I'm glad I came out and did this."
Throughout each season, the LPGA provides tickets to wounded warriors and their families to attend tournaments across the U.S. In addition to generous ticket donations and on-course experiences, CME Group also provides donations for every eagle recorded during weekend play throughout the 2017 LPGA tour season. To date, CME Group and the LPGA have contributed $750,000 toward WWP programs and services.
"The LPGA's entire season is built around our Race to the CME Globe and our eagles for Wounded Warrior Project," says LPGA Commissioner Mike Whan. "Being able to give back to the men and women who defend our country is not only an exciting part of the LPGA season, but also a true honor for our players and staff!"
The 2017 LPGA CME Group Tour Championship will take place again this November in Naples, Florida. Be sure to tune in, cheer on your favorite golfers, and be on the lookout for WWP warriors in the gallery and tending the flag on the 18th green.