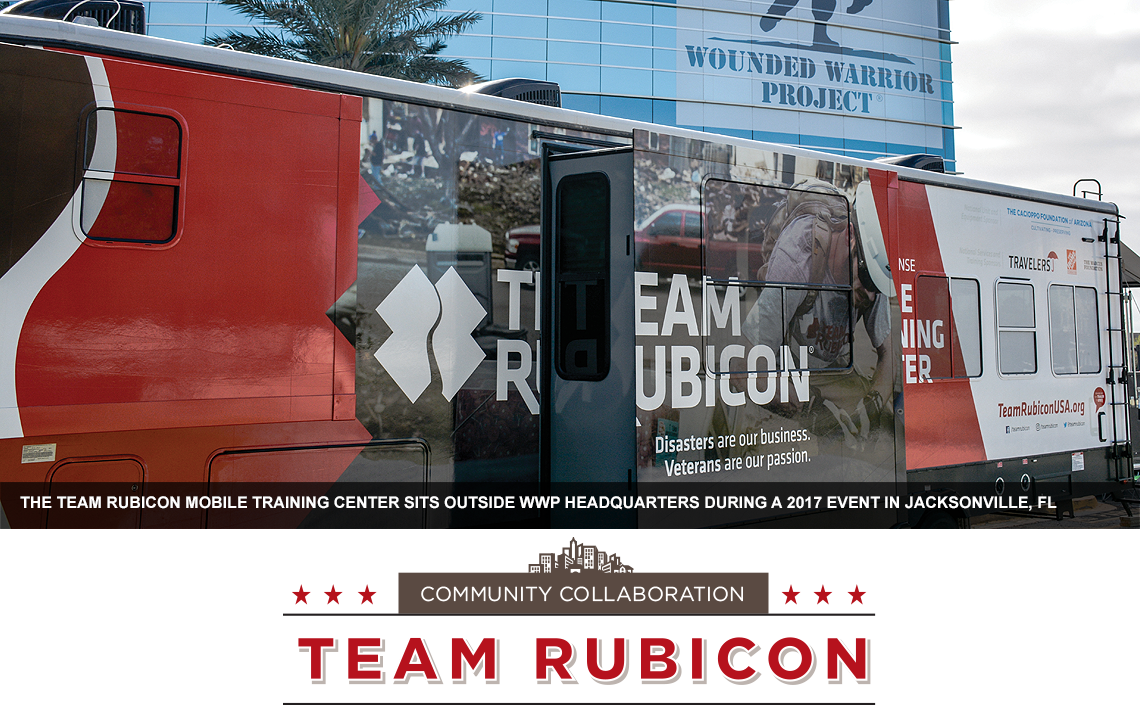 If there's a common thread connecting all veterans, it's a willingness, if not a need, to serve. Whether it's serving their families, their communities, or their country, veterans step up in support of others.
So it should come as no surprise that, after a 7.0 magnitude earthquake in Haiti, two U.S. Marine Corps veterans figured out a way to serve. Jake Wood and William McNulty, along with six other veterans and first responders, raised money, gathered supplies and headed to Haiti. They treated thousands of patients, traveling to areas deemed too dangerous by other aid organizations, and focused on those who were most likely to go untreated. They didn't know it then, but this work would become their life's purpose — Team Rubicon had been born.
Now, more than seven years later, Team Rubicon continues to unite the skills and experiences of military veterans with first responders by rapidly deploying emergency response teams across the globe. Their dedication to assisting veterans as they transition from military to civilian life and providing them with leadership development opportunities led to a natural partnership between Team Rubicon and WWP.
---
"Partnering with WWP was a no-brainer for Team Rubicon," says Team Rubicon chief operating officer and U.S. Navy veteran Art delaCruz.  "From engaging more warriors in disaster response to connecting our growing volunteer base with valuable resources as they transition to the civilian workforce, we are building stronger communities through service and empowering our nation's best to tackle the worst."
---
Through our partnership, WWP helps Alumni sign up for Team Rubicon to renew their passion for service, bring out their natural leadership skills, and connect with other warriors. In turn, Team Rubicon ensures qualified warriors are signed up with WWP and have access to free, life-changing programs and services. As a result, warriors registered with both organizations benefit from increased opportunities to heal and serve.
"I learned to fight in the military, but I also learned about compassion and comfort," says wounded warrior Dave Smith. "People around the world need the skills veterans have. By serving, we realize that we are regaining those missing pieces of ourselves."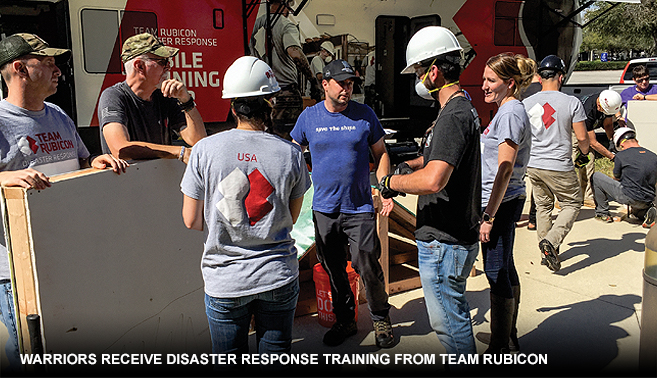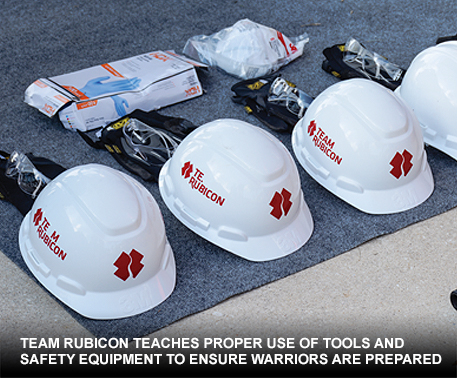 Team Rubicon training not only offers warriors camaraderie and the tools necessary to respond to a disaster, but also certifications and skills to help them find new post-military careers. From operating chainsaws to manning heavy equipment, warriors who train with Team Rubicon come away with job-ready skills that make them an asset in their local workforce. Combine those warriors' new skills and certifications with the resume-writing and job-finding abilities of the WWP Warriors to Work team, and you have a potent combination that can quickly improve the financial well-being of many warriors.
Whether through local service projects, hands-on disaster response training with Team Rubicon's Mobile Training Center, or disaster area deployments, Team Rubicon and WWP warriors are finding purpose in service, together.