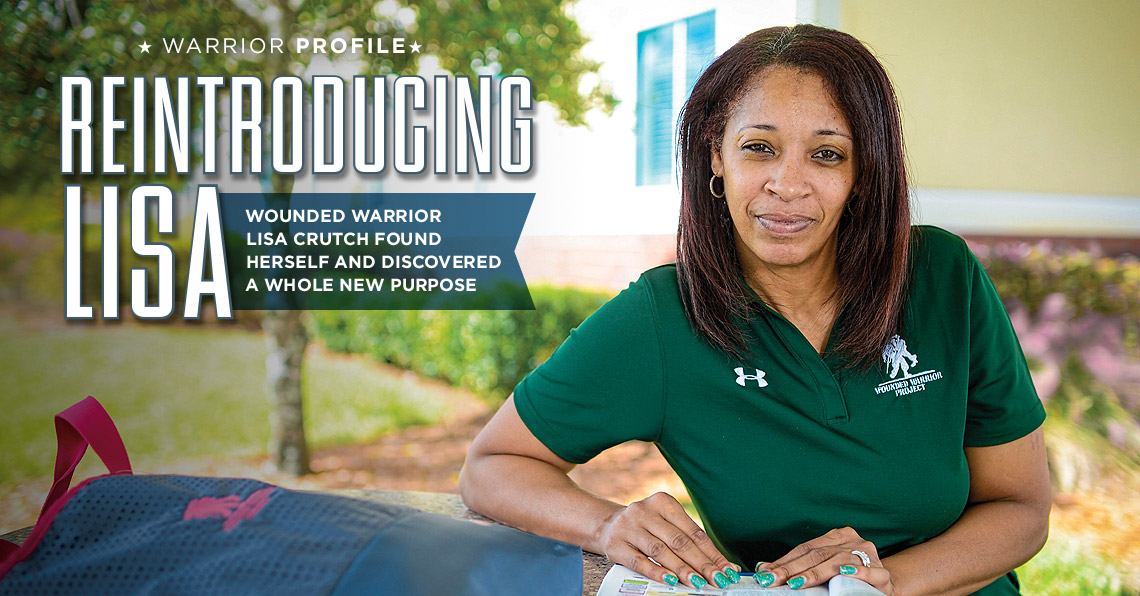 Sgt. Lisa Crutch was very comfortable in her role as a leader of the 736th Transportation Company in the U.S. Army. "My military training, my national pride, and my concern for my fellow soldiers made me a leader. I was comfortable in my own skin," she says. "However, the transition from being Sgt. Crutch to being just Lisa wasn't so easy."
When you hear her describe her everyday experiences in Iraq, it is hard to imagine her feeling any sort of comfort. "We were ambushed almost every day. I'd see evidence of snipers on rooftops — the arms, fingers, and tops of heads behind an AK-47 — and they were ready to shoot." All the while, Sgt. Crutch stood firm and kept her unit's safety top of mind.
"I came back from Iraq and got off the plane looking okay, but I wasn't okay," says Lisa. When she retired from military life in 2006, after eight years, Lisa had visible and invisible wounds, specifically TBI and PTSD. "You experience trauma in Iraq, sometimes over and over, and now you're home and have to deal with it."
The transition to civilian life and discovering what it meant to be Lisa Crutch was difficult. She credits WWP with providing the support and understanding she needed to be comfortable with her new life.
"Wounded Warrior Project reintroduced me to my former self," says Lisa. "The effects of TBI caused me to forget so many pleasant memories — family vacations, celebrations, moments of joy. And, yet, I could remember every frightening thing from Iraq to the smallest detail. WWP helped my family understand what I was experiencing."
Lisa can't help but get emotional when she thinks of WWP. "If I need help, I promise you I can call someone at Wounded Warrior Project and get the help I need," says Lisa. "And if they don't have the answer, they will put me in contact with someone who does. Things that you can't purchase with money — your self-esteem, getting your life back — Wounded Warrior Project gives us."
---
"I'm still a work in progress. So let's be imperfect together. Let's help one another. You can never go wrong when you help people."
---
Now that Lisa believes in herself again, she feels it's her calling to be a WWP peer mentor, helping fellow service members adjust to civilian life. "I understand the invisible wounds warriors hide from others and hide from themselves. I can help my fellow warriors acknowledge, confront, and overcome what's going on inside of them," Lisa says. "I'm still a work in progress. So let's be imperfect together. Let's help one another. You can never go wrong when you help people."