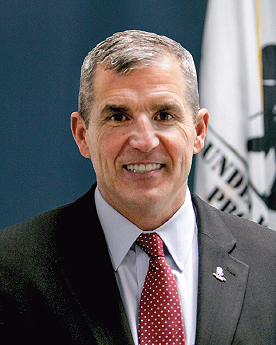 EXECUTIVE MESSAGE
Living The Logo
Dear Alumni:
I've been with Wounded Warrior Project® (WWP) for a little more than six months now, and I've met hundreds of amazing warriors. You inspire our team and me to work hard to continue improving our programs and services to help you overcome the wounds of war.
One of our primary goals for 2017 is to increase investments in mental health for the signature wounds of our recent conflicts — post-traumatic stress disorder (PTSD) and traumatic brain injury (TBI). This increased focus will allow us to continue to help you, regardless of your stage of recovery. Not only can we help with your current mental health challenges, but we will also stay with you as you progress, meeting your needs for a lifetime.
An example of this commitment is Warrior Care Network®, which you will learn all about in this edition of After Action Report. Wounded warrior Bill Geiger went through the program and says he learned more in two weeks than he had in 12 years of prior treatment.
Warrior Care Network is also an example of how WWP partners with other nonprofits, for-profit businesses, and government agencies to expand the resources available to you. We know impact increases when organizations work together for common good, and this concept extends to you and your fellow warriors as well. The more you help one another, the stronger the veterans' community becomes. Many of the stories featured in this issue share that spirit of service, and I'm always inspired and humbled to hear tales of how you've lived the WWP logo and given back to fellow veterans.
My hope for 2017 is that you will find ways to overcome whatever challenges are presented to you — both large and small — enjoy life, and find ways to give back to your community. Build resilience through physical activity, spending time with friends and family, and simply enjoying the things you like to do. Try out a new skill or take a class with a friend; spend time at the lake, or take a walk in the woods. Conquer the odds, and when you are at the right place on your journey to recovery, find a way to extend your hand, and help others do the same.
Sincerely and with eternal gratitude for your service,

Michael Linnington
CEO, Wounded Warrior Project
Lieutenant General, U.S. Army, Retired