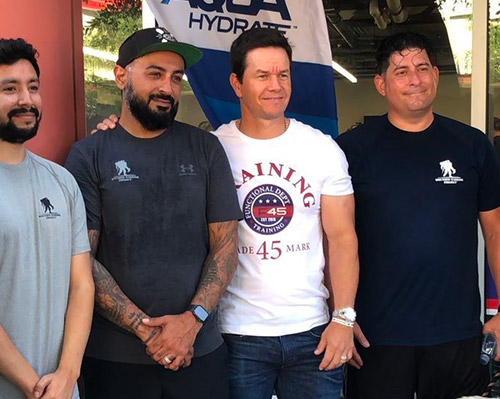 6/25/19 – Actor Mark Wahlberg Encourages Wounded Warriors to Get Active during F45 Training Session
---
Mark Wahlberg's life as an American actor, producer, model, rapper and businessman, as well as his humble upbringing in Boston, Massachusetts, have shaped and influenced his commitment to charity and community service. Receiving his star on the Hollywood Walk of Fame in 2010, Mark has now acted in over 70 movies and TV shows as well as helped produce over 32 films, 8 of which he executive produced.  
Over the course of his storied and prolific career, Mark has acted in a diverse array of roles, which have demonstrated his ability to portray a wide range of characters, ranging from an Oscar nomination for Best Supporting Actor in action thriller The Departed to acting in the highest-grossing original r-rated comedy, Ted, in 2012. Immediately following his acting debut in 1997 with Boogie Nights, for which he received widespread praise, Mark appeared in 9 films between 1998 and 2003.
In one of his recent interviews, Mark spoke about his legacy as an actor, noting that: 
"In my movies, I'm not trying to erase any old image of myself, really. And also I'm not trying to imitate anyone or follow in their footsteps… I know how you can only last in this business if you've got something special to offer, just by being yourself. Imitators don't last, and I'd like to last." 
However, apart from being one of the world's highest-paid actors in 2017, Mark has also donated his time and money generously to organizations equally as diverse as his acting roles. In 2018, the film All the Money In the World found itself entangled in controversy after Mark's co-star in the film, Michelle Williams, received less than $1,000 for her role while Mark's salary came in at $1.5 million. Taking action, Mark donated his earnings from the film to Time's Up, a foundation set up by Williams to fight against sexual harassment.  
Apart from acting, he has been successful in a wide array of business ventures, including as the co-owner of burger chain Wahlburgers, a key investor in sneaker resale marketplace StockX, and as brand ambassador for his own line of GNC nutrition products. His partnership with GNC also led him to purchase a stake in F45 Training who recently worked with WWP and wounded veterans in a training workout in California. Mark also founded the Mark Wahlberg Youth Foundation in 2001, which helps raise money for the education and enrichment of inner-city children and teens. Mark revealed to the Huffington Post that, "My circumstances were not unlike millions of other teens today, who live in tough working class neighborhoods surrounded by drugs, violence and crime, and who struggle to stay on the right path without positive influences." As a committed philanthropist, he currently sits on the board of several charitable organizations, including the Sheriff's Youth Foundation of LA County, St. Frances Food Pantries and Shelters, The Felix Organization, Elevate Hope Foundation, and A Place Called Home. In addition, he was inducted into the Boys & Girls Clubs of America's Alumni Hall of Fame in 2012.
In 2013, Mark starred in and helped produce the American biographical war film Lone Survivor, based on a non-fiction book by former US Navy Seal Marcus Luttrell. In the emotionally raw film, Mark stars as Lutrell along with the rest of the Operation Redwing team on their mission to gather intelligence on Taliban leadership in Afghanistan. Soon after the production of Lone Survivor, Mark took time to travel to Iraq and Afghanistan to thank our troops for their brave service to our country. However, his support did not end there, and he was once quoted as saying  "I believe that saying thank you is not enough." In recognition of his outstanding commitment to helping the US military, he received the Bob Hope Award from the Medal of Honor Society. Today, he is an active supporter of our veteran charity efforts at the Wounded Warrior Project and was a recipient of the James Gandolfini Award in 2015 for portraying similar renowned characteristics as Mr. Gandolfini and for truly living the WWP mission to honor and empower wounded warriors.