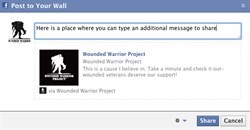 Donate your status update on Facebook and help advocate for Wounded Warriors online. Share our status updates with your friends. You'll have the opportunity to customize the message and review it before it's posted.
Click here to begin your Facebook post.
SUGGESTED POSTS
This is a cause I believe in. Take a minute and check it out- wounded veterans deserve our support!
If you're a veteran who served after 9/11 and incurred a service-connected wound, injury or illness (mental or physical), you should check out Wounded Warrior Project. They offer a ton of great programs for veterans and active-duty warriors, and all their programs are free!
Join me in honoring and empowering Wounded Warriors who sacrificed so much to protect our freedom. Wounded Warrior Project is a nonprofit, nonpartisan organization that assists service members and veterans who have incurred a service-connected wound, injury, or illness on or after September 11, 2001. All of the WWP programs are designed to help support and empower Wounded Warriors in their recovery and return to civilian life. To learn more about WWP programs, events, ways to get involved, and how to donate, visit: /programs.
Did you know PTSD is the most common injury for veterans who served in Afghanistan or Iraq? Wounded Warrior Project has some great programs to help those dealing with this invisible wound. http://wwpinc.org/PTSDprograms
Every dollar counts. Why not take the cost of one cup of coffee this week and donate it to support wounded veterans? A great organization to consider is Wounded Warrior Project: support.woundedwarriorproject.org