Common Reactions to Combat and Operational Stress and Trauma
Four Important things to know about combat stress and trauma, Reactions to combat and operational stress and trauma may include:

Exposure to combat and operational stress affects service members in many ways. While some of these effects can be positive, many service members experience lasting emotional scars. Being deeply impacted by what you did and what you saw is to be expected. For some, the psychological and emotional wounds run deep and make it hard to move on and function effectively in various roles (e.g., parent, co-worker, partner, friend).
Here are four important things to know:
You are not alone.
This is not about weakness.
You deserve to heal and recover from the invisible, psychological wounds of war as much as you would deserve the best care for the physical wounds of war.
Help is available.
Staying informed and learning ways to manage and cope with what you're experiencing are key in the readjustment process. Some common reactions to combat and operation stress and trauma are listed below. Keep in mind that these post-traumatic reactions can present themselves at varying times and to varying degrees from individual to individual. If your reactions interfere with your life, do not improve, or worsen over time, please take the steps to get the help you need and deserve.
Reactions to combat and operational stress and trauma may include:
Problems concentrating or making decisions
Having disturbing dreams and memories or flashbacks
Feeling hopeless about the future
Feeling numb or lacking interest in anything
Having a negative view of the world or other people
Guilt and shame
Avoiding people, places, and things related to stressful operational experiences
Feeling on guard, constantly alert, or jumpy
Being irritable or having outbursts of anger
Having trouble sleeping
Feeling detached or withdrawn from others
Read next section or go back to Combat Stress Recovery Program page.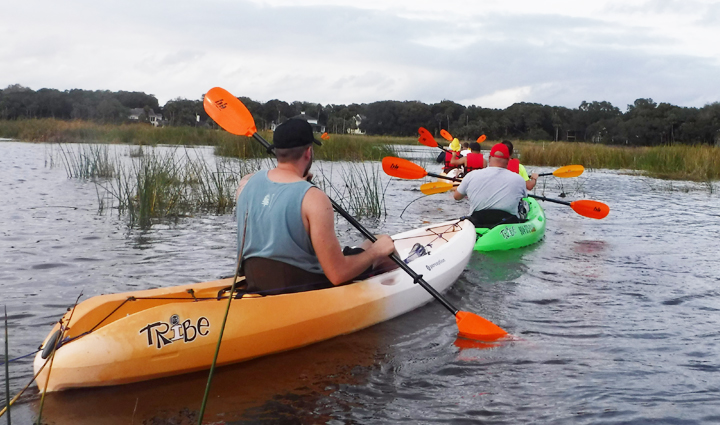 Project Odyssey®
Project Odyssey is an outdoor, rehabilitative retreat that helps warriors overcome combat stress through shared experiences with peers and connecting with nature.