Combat PTSD and Stress in Military Veterans
Understand how to recognize and deal with PTSD, TBI, and combat stress
What is Combat Stress?
Combat stress is a normal reaction to the abnormal conditions of a combat environment. Symptoms can be, but are not limited to, fatigue, loss of concentration, and decreased reaction time.
What is PTSD?
Post-traumatic stress disorder (PTSD) is a diagnosed condition that can develop after a person is exposed to a traumatic event. PTSD is a very common condition for many veterans after military service. Symptoms can include disturbing thoughts, feelings, or dreams related to the events, mental or physical distress, difficulty sleeping, and changes in how a person thinks and feels.
What is TBI?
Traumatic brain injury (TBI) is an injury to the brain caused by an external force. The symptoms of the injury can vary. Mild or moderate TBI symptoms can include mood changes, trouble with concentration, headaches, difficulty with sleep, and reduced motor coordination. Severe TBI can cause greatly reduced or lack of motor control, greatly reduced ability or inability to speak, and restlessness or agitation.
Problems Associated with Combat Stress & Trauma
What is combat trauma? Recognizing Combat Stress, How to deal with this trauma
Exposure to combat and operational stress can leave emotional scars that linger after deployment. While every individual reacts differently, some problems service members and veterans may notice after combat or operational stress are listed below.
Anger or Aggressive Behavior
Although anger is a natural and healthy emotion that may have helped you do your job while deployed, intense anger can scare people and push them away. Aggressive, hurtful behavior can also cause problems with family, friends, co-workers, and the legal system.
Alcohol/Drug Abuse
While using alcohol or drugs to numb yourself ("self medicating") might seem to work in the moment, it can prevent you from helping yourself and leave you vulnerable to more problems (psychological, medical, legal) in the long run.
Depression
Depression involves feeling down or sad more days than not. It is different from normal feelings of sadness, grief, or low energy. You may feel hopeless, guilty, or worthless, and you might think about hurting or killing yourself.
Suicidal Thoughts
If you or someone you know is feeling suicidal, call the National Suicide Prevention Lifeline at 1-800-273-8255. Veterans should press "1" after being connected to reach the Veterans Hotline. You can also visit National Suicide Prevention Lifeline, or call a counselor, doctor, or 911. Help is available.
Moral Injury
A moral injury is a lasting and powerful psychological wound that is caused by doing, failing to prevent, or observing acts that go against deeply held moral beliefs and expectations. Veterans who experience moral injury may experience a reluctance to get close to other people, difficulty trusting others or themselves, and a loss of faith or spirituality.
Post-traumatic Stress Disorder (PTSD)
Traumatic deployment experiences, such as threat to life, the loss of others, and seeing the wounded and the dying, can leave lasting emotional scars. PTSD in war veterans is a common condition that can develop after you have gone through such experiences. If you have PTSD, you may find yourself reliving deployment events over and over again in the form of unwanted memories or nightmares. You may try to avoid situations or experiences that trigger these memories or otherwise remind you of the traumatic event. You may also feel numb, have difficulty communicating with other people, and even have trouble feeling loving feelings toward others. You may also find that you feel "on high alert" and irritable all the time, making it hard to relax, sleep, or concentrate.
Common Reactions to Combat and Operational Stress and Trauma
Four Important things to know about combat stress and trauma, Reactions to combat and operational stress and trauma may include:
Exposure to combat and operational stress affects service members in many ways. While some of these effects can be positive, many service members experience lasting emotional scars. Being deeply impacted by what you did and what you saw is to be expected. For some, the psychological and emotional wounds run deep and make it hard to move on and function effectively in various roles (e.g., parent, co-worker, partner, friend).
Here are four important things to know:
You are not alone.
This is not about weakness.
You deserve to heal and recover from the invisible, psychological wounds of war as much as you would deserve the best care for the physical wounds of war.
Help is available.
Staying informed and learning ways to manage and cope with what you're experiencing are key in the readjustment process. Some common reactions to combat and operation stress and trauma are listed below. Keep in mind that these post-traumatic reactions can present themselves at varying times and to varying degrees from individual to individual. If your reactions interfere with your life, do not improve, or worsen over time, please take the steps to get the help you need and deserve.
Reactions to combat and operational stress and trauma may include:
Problems concentrating or making decisions
Having disturbing dreams and memories or flashbacks
Feeling hopeless about the future
Feeling numb or lacking interest in anything
Having a negative view of the world or other people
Guilt and shame
Avoiding people, places, and things related to stressful operational experiences
Feeling on guard, constantly alert, or jumpy
Being irritable or having outbursts of anger
Having trouble sleeping
Feeling detached or withdrawn from others
How Can I Find Help?
Finding the Right Mental Health Professional for Veteran PTSD, Scheduling An Appointment, Active Duty and Veterans Help Resources
Just like there are a wide variety of wounds warriors experience during and following combat, there are a wide variety of health professionals to treat those wounds. Finding the right therapist depends on what matters most to you. Determine if you are interested in a specific type of therapy or if your selection will be limited by your health care provider and fees. Regardless of what you decide is right for you, there are a number of ways to find a suitable veterans mental health therapist.
Scheduling An Appointment
When you call to schedule an appointment, be sure to mention that you are looking for a therapist who specializes in effective treatment of the specific issue(s) you would like to address. For example, an effective treatment for PTSD is cognitive-behavioral therapy (CBT).
Active Duty and Veterans Help Resources
The WWP Resource Center can assist you with information regarding WWP programs and services to meet your specific needs. Email the WWP Resource Center at resourcecenter@woundedwarriorproject.org or call 888.WWP.ALUM (888.997.2586).
Call the VA Health Benefits Service Center toll free at 1-877-222-VETS or explore My HealtheVet, which provides veterans help with VA health care information, services, and locations.
Call the Vet Center's national number at 1-800-905-4675 or visit online for more information or to find the location nearest you.
Locate non-veteran specific metal health services online through the Mental Health Services Locator hosted by the Substance Abuse and Mental Health Services Administration (SAMHSA).
Take a look at Sidran. They offer a referral list of therapists, as well as a fact sheet on how to choose a therapist for PTSD.
If you are interested in learning more about WWP mental health services:
---
888.WWP.ALUM (997.2586) or 904.405.1213
HOURS OF OPERATION
Monday - Friday 9 am - 9 pm EST
resourcecenter@woundedwarriorproject.org
---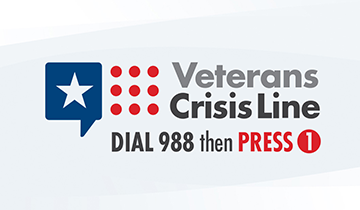 If you are in crisis, please call 911, go to your nearest emergency room, or call  1-800-273-8255 (Para Español llame 1-888-628-9454). Veterans in need of help: Press "1" after you call, or go to Veterans Crisis Line to chat live with a crisis counselor at any time.