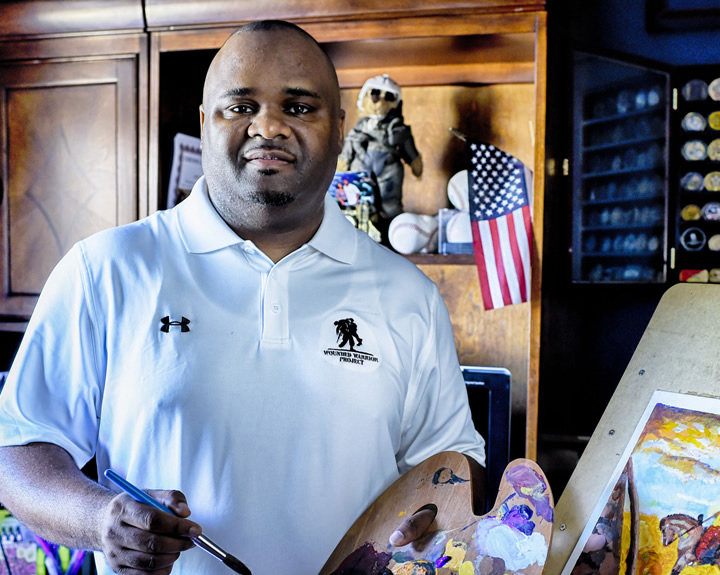 "These outings are wonderful experiences and they provide me with a lot of positive emotions so I can keep moving in a positive direction mentally and physically."
— Chris Gordon
Sometimes, the movies can make a real difference in our lives. They certainly did for former Army Staff Sergeant Chris Gordon. It was the movie Courage under Fire that, at least in part, inspired him to join the military. Little did he know he'd write his own script for real-life events worthy of the film's title.
"I really didn't know what to expect, entering the Army" Chris said. "I remember watching Full Metal Jacket and Platoon, and movies like that, but when I got there, it was really something else, because I was really doing it. I took the mental part of it in stride, but the physical part of it was challenging for me."
When it counted, Chris found he was made of the right stuff.
"When I originally went into the Army," he says, "I was an armor crewman. I switched specialties when it came time for re-enlistment. A supply sergeant job was one of the options, and I wanted to learn something that would be practical when I got out of the Army." Ironically, it was in an armored vehicle that Chris met his greatest adversity.
On March 13, 2005, he was riding in a Stryker armored vehicle as part of a patrol in the Iraqi town of Tal-Afar. "They said we were going to take part in a search. By that time, we'd been in Iraq for six months, and we had done a lot of searches like that. Then on that morning, we found some contraband, confiscated it, and then we were consolidating around a mosque.
"Each Stryker came up and lined up before we got the go-ahead to convoy back to the base. As my Stryker rolled up to get in line, it just got set off. I didn't know what it was."
The improvised explosive device (IED) explosion literally launched Chris and his clerk out of the Stryker's back hatch. "Thank God we had the hatches open," Chris says. "If they had been closed, I wouldn't be here today. The blast actually threw us up out of the hatch and out of the vehicle."
Chris remembers being taken to the combat-support hospital nearby, but the next thing he knew, he was waking up at Walter Reed Army Medical Center (WRAMC). He was left without his right leg and with a permanent titanium rod in his left leg. "Rehab has been intense," he said. "At first you're in a wheelchair and eventually you start gaining back your strength. You have to learn how to get up, use a prosthetic and learn how to walk again, actually."
Chris is doing much more than walking. He's standing tall, as a husband, a father, and a student pursuing a college degree in information technology. The native New Yorker has moved to a quiet town in Central Florida. "Once I finished with my recovery at Walter Reed," he said, "I just decided to pack it up and move to Florida, where my mother had moved. Now, my sister and my son live here as well. I recently met a young lady and we got married, and she's here with me now, too."
Chris says Wounded Warrior Project® (WWP) has also supported him like a family member. His first contact with WWP came at WRAMC when he was given a backpack with comfort items in it. Today Chris remains fully involved with WWP, participating in fishing and hunting trips, attending sporting events, and cycling on Soldier Ride®.
"These outings are wonderful experiences and they provide me with a lot of positive emotions so I can keep moving in a positive direction mentally and physically," Chris says.
Courage comes in many forms and doesn't only show up under fire. Chris is facing the future with courage, determination, and a devotion to his family.
Chris never knew his own father, but he surely had a good role model. "I really look up to my uncle, Earl Wilson," Chris said. " He has been the closest thing to a father that I have had, and he is very wise. And I know that my biggest accomplishments are owning a home of my own and being a father to my son." Despite all that Chris has overcome and achieved, it is these things that endure.