2021 Year in Review
Part I: 2021 Key Legislative Accomplishments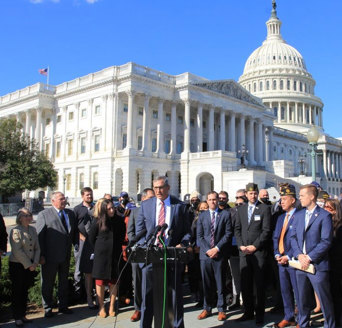 While 2021 was challenging, WWP was hard at work advocating for legislation that impacts the 200,000 registered post-9/11 warriors and family members, and the lives of all 19 million-plus veterans across the country. Our advocacy focused on women veterans, toxic exposure, mental health, caregivers, financial security, and enhanced quality of life. With your help, we were pleased to witness passage of several pieces of key legislation that will have a powerful impact on the post-9/11 veteran population for years to come.
WWP has always placed a strong emphasis on improved mental health care, and 2021 was no different. We were thrilled to help contribute to the passage of the Sgt. Ketchum Rural Veterans Mental Health Act of 2021 (H.R. 2441). VA currently offers its Rural Access Network for Growth Enhancement (RANGE) Program in 81 locations. This legislation will establish three new RANGE program centers to serve rural veterans who do not have access to intensive outpatient mental health care in their area. The program provides intensive community-based clinical case management and psychotherapy services for rural veterans with severe mental health issues. 
We were also excited about the passage of the PAWS for Veterans Therapy Act. When properly trained and cared for, service dogs can empower warriors with PTSD to participate more freely in daily activities by mitigating symptoms. In addition to the benefits that a service dog provides, work therapy to train and socialize dogs can also have a powerful impact. The PAWS for Veterans Therapy Act (H.R. 1448) will allow VA to provide service dogs to veterans with mental illnesses who do not also have mobility impairments and establish a pilot program on dog training therapy for veterans.  It was exciting to see VA recently announce the five medical centers where they will launch the pilot program.  The program will launch out of: Anchorage, AK; Asheville, NC; Palo Alto, CA; San Antonio, TX; and West Palm Beach, FL.
Recognizing that women are the fastest-growing group in the veteran population, and throughout 2021, we prioritized improving reproductive health care for women veterans. Our advocacy helped contribute to a milestone victory for maternity care through passage of the Protecting Moms Who Served Act (S. 796). This legislation will provide community maternity care providers with training and support to meet pregnant and post-partum veterans' unique needs. It also authorizes increased data collection on maternal mortality and negative health outcomes, including mental health conditions or substance use disorders caused by labor and delivery; this study will include a focus on racial and ethnic disparities.
We also saw progress on legislation surrounding veterans' safety when visiting VA facilities. The Veterans' Camera Reporting (VCR) Act (H.R. 1510) will require VA to submit a report on the use of video cameras for patient safety and law enforcement at medical centers. The report generated by the VCR Act will include information on how security cameras are maintained, how cameras are used to monitor staff and patients, where cameras are positioned in facilities to increase patient safety, and how law enforcement is using this information. This report will help VA and Congress identify if additional policies are needed. The safety and security of our nation's veterans is vital. We believe the Veterans' Camera Reporting (VCR) Act will help ensure the wellbeing of those who visit VA medical facilities.
Finally, one of the most significant legislative accomplishments during the past year was the inclusion of the Global War on Terrorism Memorial Location Act (S. 535/H.R. 1115) in Section 6605 of Congress's annual defense bill, the FY22 National Defense Authorization Act.  This new law authorizes construction of a Global War on Terrorism (GWOT) Memorial on the centrally located "Reserve" area of the National Mall in Washington, DC. It will ensure that the GWOT Memorial will be constructed in a highly visible area, close to other memorials honoring those who served in World War II, Vietnam, and Korea. WWP is grateful for those who made their voices heard on this issue. We know this would not have been possible without your help.
Each legislative victory represents the capacity for progress that exists thanks to our partners at VA, congressional stakeholders, and all of your hard work and dedication. We are encouraged by everything we were able to accomplish together in 2021, but we know there is still much work to be done and are excited about the opportunity and potential of 2022.
Part II: 2021 By the Numbers
Testified before Congress nine times, submitted four written statements for congressional hearings, and signed onto 36 advocacy letters to Congress.
Met with 136 members of Congress, including 53 new members to discuss legislative priorities for post-9/11 veterans.
Toxic Exposure – Provided witness testimony before Congress three times, spoke at three press conferences, participated in one public roundtable with the House and Senate Veterans' Affairs Committees. Engaged in several media interviews, including NBC Nightly News, The War Horse, the Phil show, and the Australian Broadcasting Channel to advocate for health care for veterans who were exposed to toxic substances.
Women Veterans – Amplified the voices of nearly 5,000 women warriors through the release of the Women Warriors Initiative report. This report represented a year of research into the experiences, challenges, and livelihoods of the women veterans WWP serves.
Mental Health – Worked with Congress to introduce mental health legislation, including 12 new provisions to improve veterans' access to quality care, bolster VA's mental health workforce, and strengthen mental health research.
Benefits – Helped introduce legislation to automatically re-enroll qualifying veterans in VA's clothing allowance benefit, eliminating an unnecessarily burdensome enrollment process for veterans with injuries and adaptations. Approximately 40,000 veterans received clothing allowance benefits in 2020.
Global War on Terrorism Memorial – Convened more than 30 WWP alumni and 11 members of Congress, along with community partners and Gold Star family members, on Capitol Hill to urge the U.S. Senate to authorize construction of a Global War on Terrorism (GWOT) Memorial on the centrally located "Reserve" area of the National Mall in Washington, DC.
Part III: 2021 Alerts
Did You Know?
A critical financial security measure was passed into law last year that will have a substantial impact. The Veterans' Compensation Cost-of-Living Adjustment Act (S. 189) increased the amounts payable for veterans' disability benefits and survivors' compensation. The annual cost-of-living adjustment rose 5.9% in 2022, the largest increase in 40 years.
America the Beautiful – National Parks and Federal Recreational Lands Passes are now available, without charge, to service members, veterans, and Gold Star Families. The Alexander Lofgren Veterans in Parks (VIP) Act (S. 2580/H.R. 4300), which Congress passed as part of the annual defense bill, grants free lifetime access to more than 2,000 national parks, wildlife refuges, national forests, and other federal recreational areas for U.S. military veterans and Gold Star Families. These new lifetime passes will be available later in 2022. The VIP Act also creates annual passes for current members of the Armed Forces, which may be converted into lifetime passes once service members leave the military.