Project Advocacy News
WWP's advocacy efforts connect you and your fellow warriors with your elected officials, providing you a voice in our nation's capital, and empowering you to discuss the issues that matter most to the post-9/11 veteran community.
WWP proudly serves as a voice for our nation's warriors in Washington, D.C., advocating for the issues that matter to them most. Using the data collected from our Annual Warrior Survey and feedback from warriors, and by talking with members of Congress, we push for policies and initiatives that can make a real difference in the lives of millions of warriors, family members, and caregivers. We directly represent WWP's 185,000 registered post-9/11 warriors and their families, and on broader issues, as many as 20 million of our nation's veterans from all generations.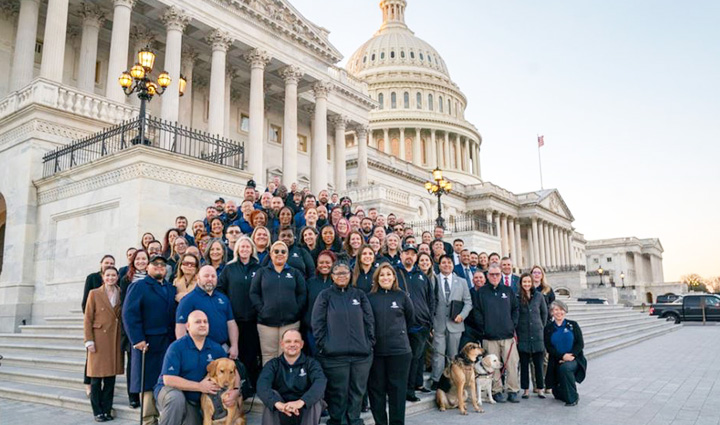 MARCH 2021
Includes the following articles:
WWP Government Affairs Update
2020 Year in Review
Global War on Terrorism (GWOT) Memorial
Women Warrior Initiative Launch
2020 Year in Review
Meet the Chairman of the Senate Committee on Veterans' Affairs
VA Partner Spotlight: Respite Relief for Military and Veteran Caregivers Program

NOVEMBER 2020
Includes the following articles:
Letter from the VP, Government Affairs
Key Findings from our Annual Warrior Survey
How We Can Reverse the Trend of Veteran Suicide
Meet the Newest Veteran Members of Congress
Expanding the VA's Caregiver Program
Q&A with Second Lady of the United States Karen Pence: PREVENTS Task Force Ambassador
Recognizing a Lifetime of Service: Rep. Phil Roe, M.D.

AUGUST 2020
Includes the following articles:
Letter from the VP, Government Affairs
The Women Veterans Initiative and Roundtable Discussions with Female Warriors
Staying connected: The Importance of Peer-to-Peer Engagements of Women Veterans
Digital Engagement and Advocacy in the Age of COVID-19
Meet the Chairman of the House Committee on Veterans' Affairs
Veterans Benefits Update
Partner Spotlight and Update: The Department of Veterans Affairs

APRIL 2020
Includes the following articles:
Letter from the VP, Government Affairs
Spotlight on Operation Advocacy and WWP's Congressional Testimony
Meet the Chairman of the Senate Committee on Veterans' Affairs
COVID-19 Update
A Warrior's Perspective: Why I Advocate
New WWP Government Affairs Staff

JANUARY 2020
Includes the following articles:
Introducing: WWP Advocacy Newsletter
Meet the Government Affairs Team
Front-Burner Bills
Annual Warrior Survey
Commissary Expansion