Global War on Terrorism Memorial Location Act Passed Congress with Your Help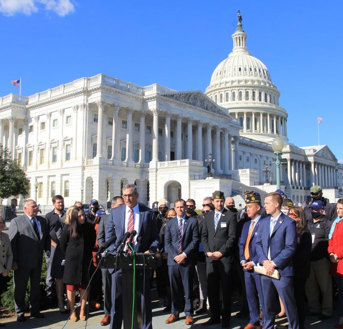 Wounded Warrior Project alumni made their voices heard loud and clear on Capitol Hill on Nov. 3.
More than 30 WWP alumni joined community partners, Gold Star family members, and 11 Members of Congress to urge the U.S. Senate to authorize construction of a Global War on Terrorism (GWOT) Memorial on the centrally located "Reserve" area of the National Mall in Washington, DC. That would ensure that the GWOT Memorial is close to other memorials honoring those who served in World War II, Vietnam, and Korea.
"Future generations deserve to be able to learn about and honor the sacrifices of the post-9/11 servicemen and women who helped to protect America during the longest war in our nation's history," said WWP CEO Lt. Gen. (Ret.) Mike Linnington. "Building this Memorial on a centrally located spot on the National Mall will make sure that's possible – and it's what our veterans deserve."
This legislation is necessary because some lawmakers and bureaucrats have suggested the Memorial should be placed in a less-visited location in the Washington area – including across the Potomac River in Virginia or even on the uninhabited Roosevelt Island in the middle of the river. WWP alumnus Claude Boushey, who attended the Nov. 3 event in Washington, said building the GWOT Memorial in a central, easily accessible location is vital.
"This Memorial is necessary to honor the service of everyone who helped protect America during our nation's longest war," Boushey said. "It should be built on the central core of the National Mall near the existing memorials honoring the sacrifices made by the veterans of World War II and the Korean and Vietnam Wars."
In September, WWP mounted a grassroots action campaign to connect alumni with their elected officials on the GWOT Memorial location issue. As a result of WWP's campaign, hundreds of citizens urged their Senators and Representatives to support legislation authorizing the GWOT Memorial in a centrally located, highly visited area of the National Mall.
Following this outreach and our November event on Capitol Hill, Congress passed legislation to authorize construction of the GWOT Memorial on the National Mall within the Reserve.
Your help was vital in engaging our nation's leaders on this important issue. With the construction of the Memorial, Service members, veterans, their caregivers, and their loved ones will have a place to heal, reflect, and honor those whose lives have been lost or shaped by the impact of the Global War on Terrorism.