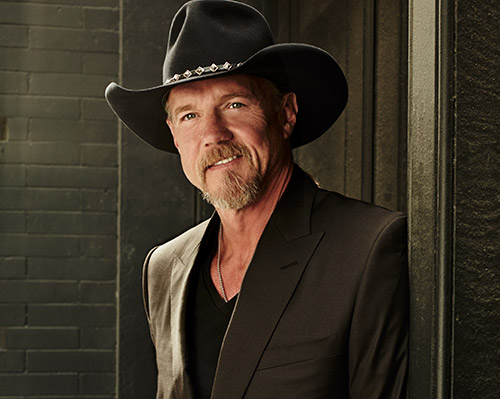 Making his mark on the country-music industry, Trace Adkins has sold over 11 million albums to his remarkably strong fanbase. This Louisiana native admired Nashville icons like Johnny Cash and Merle Haggard growing up and looks to pay it forward by inspiring the future generations of country artists. Adkins believes in connecting with his fans through his songs, which he describes as autobiographical,  and possess insightful lyrics that cover a wide range of interests.
While he is not, in the studio or touring, Trace can be found deep in charitable endeavors. From performing at benefits to appearing in creative TV advertisements to giving the rights to use his song in DRTV creative, Wounded Warrior Project has been lucky to work with this morale-boosting country icon since 2010. As a celebrity spokesperson for WWP, Trace is always ready to support veterans in any way he can. Even when Trace is not working directly with WWP, he is always advocating for veteran needs at his concerts and even within interviews. In appreciation, The Medal of Honor Convention presented Trace with the Bob Hope Award for Excellence in Entertainment for both supporting and entertaining our Service Members. He was also honored with the 2010 Artist Humanitarian Award by Country Radio Broadcasters.
Trace Adkins currently has over 1 million followers on Spotify, over 1 billion spins on Pandora (10 million/month), with 200 million plays on youtube. The Grand Ole Opry member has won both CMT and ACM awards as well as received three Grammy Award nominations. Below are a few monumental awards that Trace Adkins has received over his long career:
1996 - AMC Top New Male Vocalist 
2008 - Grammy award for hit song "You're Gonna Miss This" 
2009- Grammy - Best Male Country Vocal Performance for  "All I Ask For Anymore"
2010 - AMC Vocal of the Year & Collaborative Video of the Year (CMT Award) for "Hillbilly Bone" with Blake Shelton
In 2007, Trace unfolded the personal battles he faced with the rise of fame in his autobiography, A Personal Stand: Observations and Opinions from a Freethinking Roughneck. His baritone trademark has also made an appearance in a number of films and tv programs, from playing a tough-as-nails biker in The Lincoln Lawyer (starring Matthew McConaughey) to a wise oracle of a tattoo artist in the family-friendly film Moms' Night Out (starring Patricia Heaton, Sean Astin, Sarah Drew). He also appeared as a desperate father in Deepwater Horizon, with one of WWP's celebrity supporters, Mark Wahlberg.
Trace Adkin's most recent achievement was his role in the box office hit "I Can Only Imagine." He played the role of MercyMe's manager. This film took $7 million to make and blew all critic expectations away by pulling in $17.1 million. This movie was the third largest selling film on its opening weekend in the U.S. 
Today, he is an active supporter of our veteran charity efforts at the Wounded Warrior Project by being an incredible advocate for U.S. veterans and military.