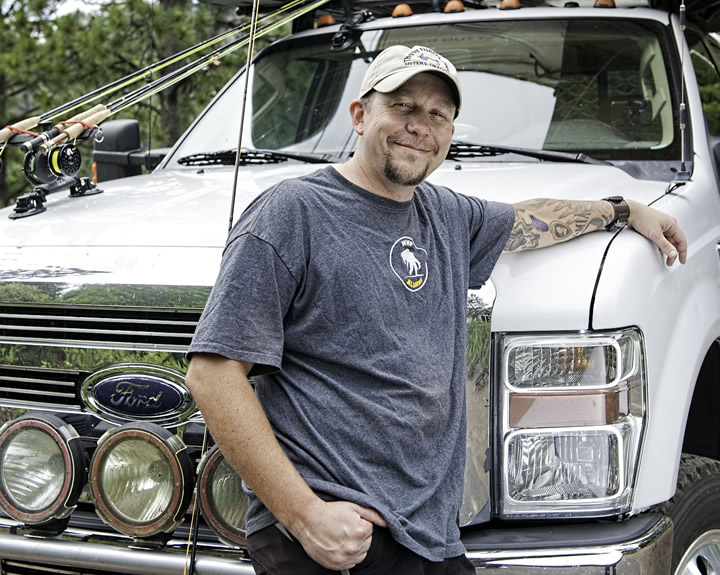 "It's been one of the best things for me. Wounded Warrior Project® enabled me to do things that I would have never been able to do on my own."
— Brett Miller
At a very young age, Brett Miller knew exactly what he wanted to do with his life.
"I was in junior high school, and it was St. Patrick's Day," recalls Brett. "And I watched our house burn to the ground in less than 20 minutes."
Brett had been lounging on the couch, watching football. He looked up to see the heating and air register billowing with smoke. The house engulfed in flames so fast, all the fire department had time to do was cool off the slab.
"I felt completely helpless," says Brett. "It had a huge emotional impact on me. Our entire family had built that house by hand."
From that moment, Brett determined in his mind to fight fires. By the time he was 16, he'd joined the Williams, Oregon Volunteer Fire Department. It was the beginning of a 17-year career as a firefighter – reaching the level of Incident Commander.
"In 1998, I joined the Army National Guard because I wanted to pay for school, augment my income, and be a part of something bigger than myself. Training for wild land fire and training for military is very similar. I felt right at home."
The call to Iraq came in 2004. Brett says he remembers making peace with himself and accepting the possibility he might not make it home alive.
He was almost right.
"I was a convoy commander conducting security operations. A roadside bomb went off six feet from the door of our Humvee. I smelled sulfur and the sky went black. It all goes blank for me from there."
The impact shook Brett with such force he suffered traumatic brain injury, brain bleed, a detached right retina, blown out right ear, and nine fractured teeth. It rendered Brett hemiplegic – paralyzed on his left side.
During Brett's recovery, he was diagnosed with post-traumatic stress disorder (PTSD) and went through a lock-down PTSD treatment. Brett describes PTSD as "a fit of mental rage." The triggers are as unique as the warriors who live with it – and so are the methods of recovery. For Brett, cycling became a form of release and therapy.
He was soon introduced to Soldier Ride™ and has participated in a number of rides with Wounded Warrior Project® (WWP).
"It's been one of the best things for me," Brett says. "Wounded Warrior Project enabled me to do things that I would have never been able to do on my own."
WWP invited Brett to compete in the 2012 Race Across America. It's 3,000 miles from Oceanside, California to Annapolis, Maryland – 30 percent longer than the Tour de France. The WWP team completed the race in seven days, two hours and finished first in their division. They also finished ahead of six able-bodied cycling teams.
"I had spent years lying in a hospital bed, going through surgeries, rehabbing, and having lots of time to think," says Brett. "My biggest motivation is somebody telling me I can't do something. Through my involvement with WWP, I want to show other warriors that, 'Yes, you can!'"