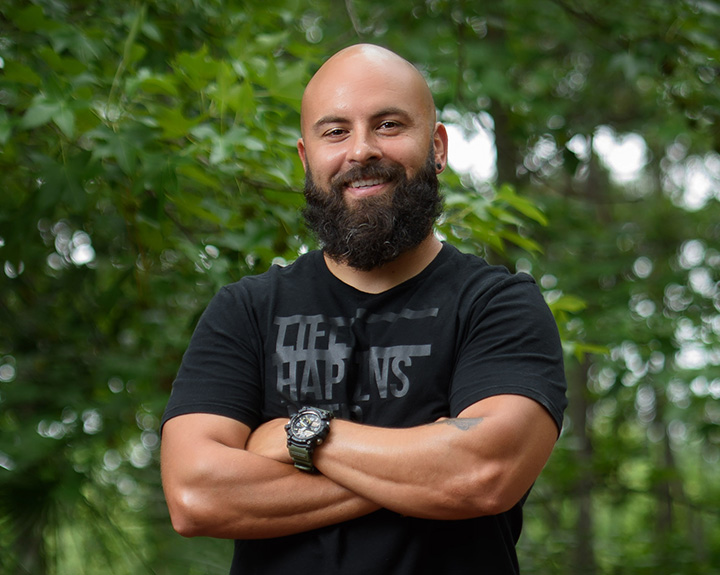 "Wounded Warrior Project has gotten me to be more physically active. They've gotten me to be mentally stronger. They've gotten me to be smarter, get an education, and broaden my horizons. Being a part of Wounded Warrior Project is like an all-around coping mechanism and health remedy."
Carlos De León
Carlos De León joined the military for the promise of a better life, and because he felt a calling to serve his country.
"Growing up, some of my friends had parents who were in the military," remembers Carlos. "They lived in nice homes, had the support of their families, and seemed happy. I saw how things could be, and I felt being a soldier was one of the greatest purposes any American can have. So I spoke with a recruiter, and in January 2000, I was on my way to boot camp to become a soldier in the U.S. Army."
Carlos trained as a mechanic and served in many locations, including Baghdad, Iraq. On August 11, 2007, as Carlos was walking to a telephone – so he could wish his father a happy birthday – his base came under fire. As he ran toward shelter, a mortar fell behind him, propelling him forward. The blast left Carlos with a traumatic brain injury (TBI) and shrapnel injuries.
"My rehab and recovery were difficult, both physically and mentally," says Carlos. "But I knew others had it worse, and some didn't make it home. I was determined to get through this."
One of the hardest parts of his recovery was finding a new purpose. Carlos had planned on a life-long career in the Army, but suddenly he was a civilian again.
"I honestly didn't know what I was going to do outside the military, and it had me very worried," says Carlos. "Out of nowhere, Wounded Warrior Project® (WWP) reached out to me and told me about an educational program in Jacksonville, Florida."
After Carlos completed the program, he stayed in Florida to help other warriors make new friends and stay active in the community as one of the first peer facilitators for the WWP Peer Support program.
"Wounded Warrior Project helped me link up with other warriors and regain the camaraderie we all miss after leaving the military," says Carlos. "That alone is priceless."
Through it all, Carlos' priorities have remained the same. "My square — my family — is the most important thing to me," says Carlos. "The love and support that WWP has shown for my family has motivated me to engage even more with the organization. I've attended the Courage Awards & Benefit Dinner® with my wife, ice-skated with my daughter, and seen an all-star high school football game with my son. I will be forever grateful to WWP for including my family and understanding that their participation plays a big role in my recovery."