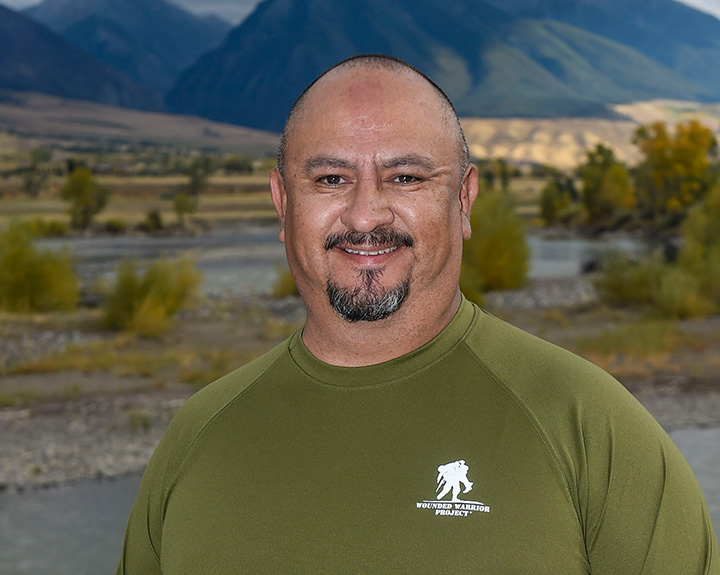 "Wounded Warrior Project gives warriors a place where they can smile and laugh, despite whatever intense things they've been through."
David Guzman
In late December of 1988, David Guzman delivered a shocking announcement to his family — he had enlisted in the U.S. Army. As the family's youngest boy, and the third youngest of 12 children overall, David's parents thought he would be the one to go to college. As it turned out, they were right — more than two decades later, David continued his education and earned three separate college degrees. But it wasn't until his Army career was cut short by injuries.
On September 17, 2004, David's convoy embarked on a reconnaissance mission. "We had crossed the Tigris River," says David. "I saw a guy on the right-hand side in a small white pickup truck. A moment later, he detonated a daisy chain bomb. One bomb went off in front of my truck, and then one right outside my door, and then one behind me."
The blasts ruptured David's eardrum and sent shrapnel through his cheek and leg. Two days later, he woke up in a Baghdad hospital, expecting to be transported to Germany for critical care. Instead, David was returned to his unit. As a result, gangrene developed in his leg, and by the time they found it, David was in rough shape. Doctors saved David's leg but had to remove most of his calf muscle. While lying in his hospital bed watching television, David saw a Wounded Warrior Project® (WWP) commercial. He picked up the phone and made what he calls "the most life-changing phone call" he's ever made.
"I medically retired in 2005 after 16 years in the Army, and I believe Wounded Warrior Project kept me from either living under a bridge or being six feet under," says David. "I was messed up, and they gave me the opportunity to decompress after my injury. Bonding with other injured veterans was the best medicine for me."
David has participated in Soldier Ride® and other challenging WWP programs and events – including rock climbing, scuba diving, Project Odyssey®, and Peer Support. He also attended a boot camp at the Culinary Institute of America® (CIA) that had a profound impact on him.
"I can just forget about everything and concentrate on cooking a nice meal for someone," says David. "You can make people happy with your cooking. The only two ingredients you need are love and passion."
As he looks back on it all, David says WWP helped him maintain an attitude of success — and he hopes to share that mindset with as many other warriors as possible.
"Like a lot of warriors, something bad happened to me in combat," says David. "But I got a second chance. Don't give up on yourself. Take those positive steps today."