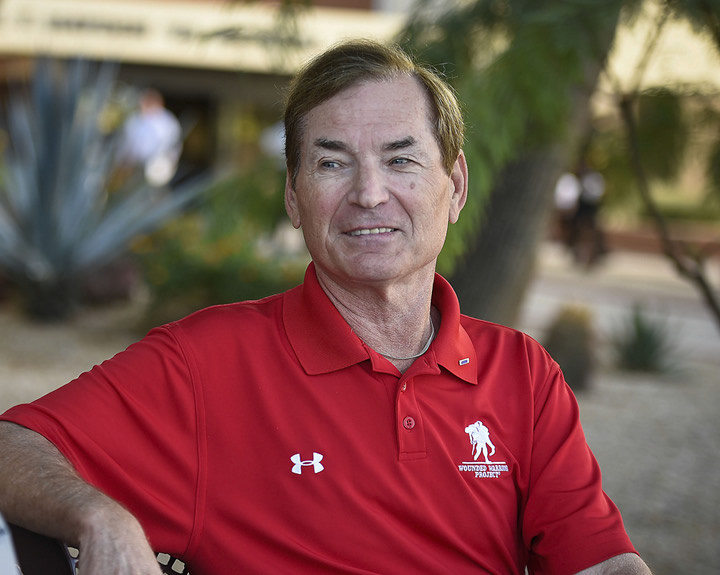 "I cried for a day because I found people who understood me. They knew exactly what I had been through. Meeting others showed me there was a life for me when I got out of the military."
— Frank Sonntag
Frank Sonntag knew the sound of a falling mortar well. Insurgents had shelled the base in Balad, Iraq, for months, and the soldiers stationed there had taken to calling it "Mortaritaville." But this one sounded different. This one was close.
In the movies, an explosion is all fireball, little blast wave. In real life, it's reversed. The mortar landed about 70 feet from Frank as he made his way to command headquarters to pick up orders on a sunny, unusually cool morning. Frank was still mulling over the workday ahead of him when the high-velocity shock wave compressed the air molecules around the right side of his body and entered Frank's muscles, organs and blood vessels. At the moment of impact, Frank felt the slap on his face and he dropped to one knee. A second later, it was over. Frank stood, dusted himself off, and went about his day.
"Since I wasn't bleeding or cut or anything like that, I just shook it off," he said.
Other than a slight headache and a bit of nausea, Frank felt normal. So normal, that when some members of his company advised him to visit the doctor, he refused. As a sergeant first class, he had tremendous responsibility and expectations resting on his shoulders. His company supplied about six million gallons of water to troops in a single year of deployment. Frank knew his fellow soldiers' canteens would go dry if he didn't do his job.
"I said, 'Well, I have a 16-hour shift to do. There's nobody else to do it. Just forget about it.'"
His decision that day would turn out to be one of worst mistakes of his life. In the years between the mortar explosion and when he finally sought help, Frank lived with debilitating headaches and violent nightmares. Sometimes he would get lost driving home. Other times, he would forget what he was doing while writing an email or his sentences would run together in a jumble during conversation. But Frank decided to bite his lip and endure. He wanted to succeed at work, and he didn't want others to view him as weak.
"I would have nightmares all night and headaches all day," he said. "You can't function that way long if this is going on in your life. It was one of those cases where you want to be macho and try to fight through it. But I was stubborn. The bottom line is I should have gotten help years earlier."
Frank's quality of life had sunk so low that by the time he walked into the Veterans Affairs hospital in Long Beach, California, in 2008, Frank was on the brink of suicide.
When doctors finally got a look inside Frank, they found a head injury and internal damage on the right side of his body. His carotid artery was blocked. So was his right kidney. Each was likely caused by the concussive trauma of the mortar blast.
Mentally, Frank was also living with the effects of post-traumatic stress disorder. But two surgeries and months of counseling later, and Frank was starting to pick up the pieces of his life. Physical recovery did not provide him peace of mind, however, especially as he transitioned into the often bewildering retirement process. That's when he met Norbie Lara, a spokesman for Wounded Warrior Project (WWP) and a wounded veteran himself.
WWP helped Frank prepare for retirement and provided an education on benefits he wasn't aware of such as combat-related special compensation. It also gave him the invaluable knowledge that he wasn't alone. When he attended an Alumni summit and talked with other veterans just like him, a burden was lifted.
"I cried for a day because I found people who understood me. They knew exactly what I had been through. Meeting others showed me there was a life for me when I got out of the military," Frank says.
For Frank, WWP represents a way to move forward.
"I can cope with so much more than I could before because of Wounded Warrior Project. They've shown me that no matter what you've been through, you can have a future and it can be good," Frank says.