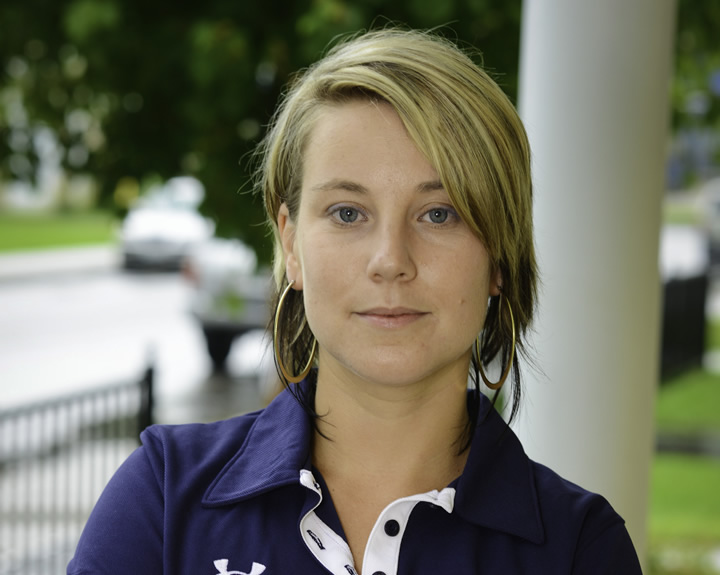 "That was the first time I heard other stories of women who were sexually assaulted and didn't get help. I wasn't alone."
— Jessica Coulter
When it got to the point where Jessica Coulter could not buy groceries for herself and two sons, she knew it was time to ask for help.
Until then, Jessica didn't want to look for a handout. She was an Air Force veteran but was never wounded in combat, so she didn't feel worthy of turning to the Veterans Affairs hospital.
But when a VA social worker heard her story –a single mother, unable to find a steady job dealing with stress and anxiety – she was handed a Wal-Mart gift card from Wounded Warrior Project (WWP) to help buy food.
"I couldn't believe it," she says. "I had no money, no child support and here they were wanting to help me."
The help from the WWP in 2010 began with a gift card, but it grew into a way for Jessica to understand herself and her struggles. It helped her realize how a sexual assault in 2000 that she never reported was really affecting her daily life.
The assault happened one year after joining the Air Force, when Jessica and her friends at Scott Air Force Base in Illinois threw a barbecue to celebrate the weekend.
Jessica says a friend, who was a military police officer, sexually assaulted her in her barracks room. It brought on a flood of guilt, confusion and resentment.
She wanted to tell her supervisor, but after witnessing the treatment of other sexual assault victims, it didn't seem possible.
"I felt like I couldn't tell him what happened, because he'd say it was my fault," Jessica says. "There were a lot of accusations of sexual assault at the time, and you'd hear stories of the treatment of the women. I didn't see a way around it."
Despite the trauma, Jessica completed one overseas deployment to Saudi Arabia in 2000, married in 2001 and gave birth to two sons. She moved into the reserves in 2007 and left the military in 2009.
The stress from a frequent-deployment tempo and Jessica's anxiety from her untreated trauma led to separation and ultimately divorce from her husband.
When she moved back to her hometown of Newport, Rhode Island, Jessica struggled with confusion, anxiety, and difficulty keeping a job. Without steady income, she came close to homelessness.
After she turned to the VA, the WWP continued to support her in a variety of ways. While the path was laid out for her, Jessica recognized it was up to her take the next steps.
"It's a hand up, not a handout," she says. "It all started with the gift cards and the Christmas help, but what they really did is help me learn how to advocate for myself and be OK."
After enrolling as a WWP Alumnus in 2011, Jessica traveled to Chicago for a Dirt Girl Mud Run. There she met other women, whose stories of assault in the military were just like hers.
"That was the first time I heard other stories of women who were sexually assaulted and didn't get help," she says. "I wasn't alone."
Through talking with fellow veterans and therapists, Jessica realized the last decade of struggles, from not being able to hold a job, to anxiety, to money problems – all were related to the undiagnosed post-traumatic stress of her assault.
Jessica stayed active as an Alumna, and WWP helped with things like understanding the new G.I. Bill and resume writing to get her professional life on track. WWP also supplied her with a peer mentor so she would have another female vet to call when she felt overwhelmed, Alumni events like ski trips to build up her confidence, and the Warrior Assistance Program to guide her through different legal obstacles.
Now raising her two boys, Jessica teaches yoga at the Naval Undersea Warfare Center and specialty classes at various yoga studios in Newport. She also practices spoken word poetry, and uses her story to inspire others through art.
"It's about helping you learn more so you can move beyond the worries, physical or mental, and live your life," she says.