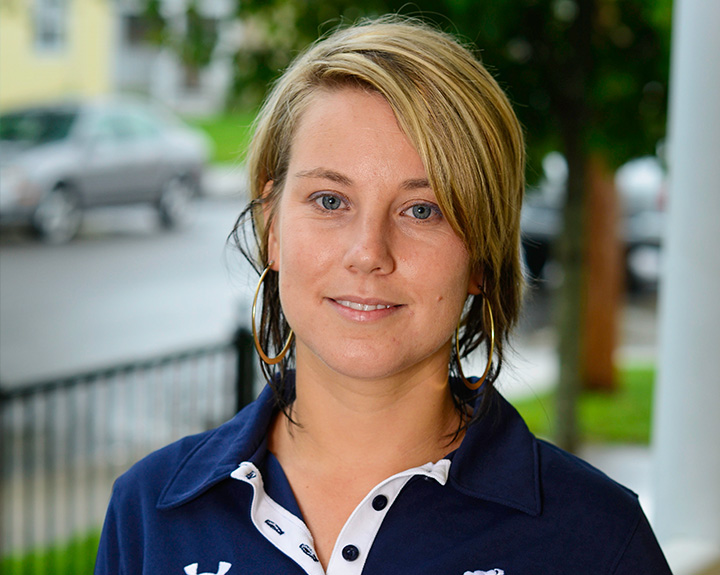 "Thanks to Wounded Warrior Project, I realized I wasn't alone. I found a place where I belong."
Jessica Coulter
When Jessica Coulter couldn't afford groceries for herself and her two sons, she knew it was time to ask for help. A Department of Veterans Affairs (VA) social worker heard her story – a single mother dealing with stress and anxiety, unable to find a steady job – and gave her a gift card from Wounded Warrior Project® (WWP) to buy food. "I couldn't believe it," says Jessica. "I had no money, no child support, and here they were, wanting to help me."
The help began with that gift card, but the support and resources from WWP that followed allowed Jessica to better understand herself and her struggles. She realized that an unreported sexual assault she endured in the Air Force was affecting her daily life, as were the memories of her two deployments to the Middle East.
"When I was deployed, I had to look for bombs underneath my car every time I went out," says Jessica. "When you combine that with being sexually assaulted and hypervigilant around men, it was an intense combination and was making my quality of life terrible. But I didn't know it because I didn't talk about it. When you don't talk about something, and you ignore it and bury it, you have no idea how much it is actually running your life."
Once she began attending WWP events, Jessica felt more comfortable talking about what was wrong. Her first event was a Dirt Girl Mud Run where she met other women whose stories of military sexual trauma were like hers. "That was the first time I heard other stories of women who were sexually assaulted and didn't get help," says Jessica. "I wasn't alone."
To get her professional life on track, WWP helped guide her through legal obstacles, explain the new G.I. Bill, and write a résumé. She has now combined two of her passions, helping veterans and holistic healing, to have a stable career she loves — as a yoga teacher at a VA hospital.
"I've seen how yoga changed my life and saved my life," says Jessica. "Now I actually see it happening to other people, and I can see everybody release a little bit of stress. No matter what you're going through, it can help your life, so that's why I love it."
That's not the only way Jessica tries to help her fellow veterans — she's also passionate about raising awareness for female veterans so they are recognized for their service and given proper medical care.
"We are literally not seen," says Jessica. "Even if we are wearing our gear on Veteran's Day, we are not seen as veterans. And on top of that, we don't have proper healthcare. We should have the same access to healthcare as our male counterparts, which means multiple full-time staff members and modern technology. I think a lot of people are just not aware of it. When you become aware, then you can start figuring out what you can do to help."