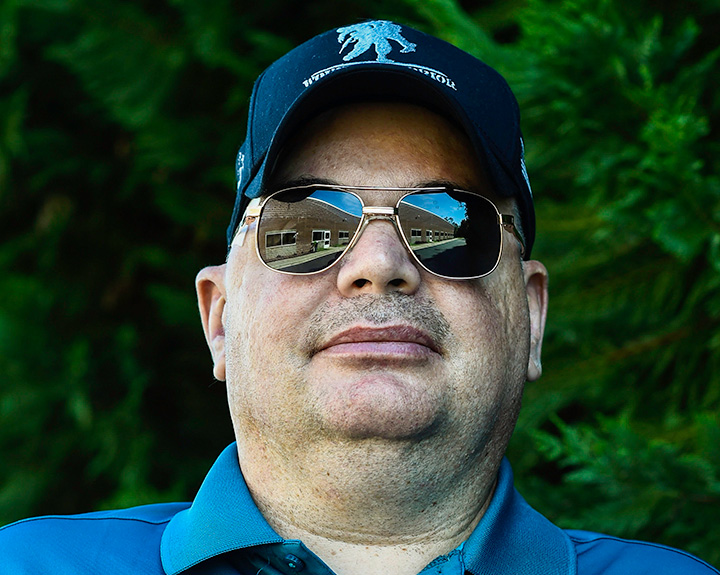 "This isn't just a sentimental moment for me, and it's not just a feel-good story. This is a metaphor come to life. This is what the military is all about and what Wounded Warrior Project is all about. No one is left behind. No one is forgotten."
— John Goubeaux
John Goubeaux still feels the hairs on the back of his neck stand when he thinks about the moment before the ceremony at Grace P. Johnson Stadium, home of The University of North Carolina at Pembroke Braves football team. He and ten fellow Wounded Warrior Project® (WWP) Alumni were honored during the pregame coin toss. He remembers the walk onto the field. 
"I'm not the slowest guy in the world, but I'm not the fastest," says John. "That day I couldn't keep up, and at first no one realized that I was lagging. They were excited for the upcoming coin flip. But a fellow warrior saw me, and he came back to get me. He took me by the hand, and we walked together until we got to mid-field." 
"Gentlemen, take your time," said the referee. "We are here for you."
After the coin toss, the warriors walked with John to the sidelines where they exchanged fist bumps with the players. John felt the goose bumps that go along with an emotional rush.
"This isn't just a sentimental moment for me, and it's not just a feel-good story," says John. "This is a metaphor come to life. This is what the military is all about and what Wounded Warrior Project is all about. No one is left behind. No one is forgotten." It's a lesson in brotherhood from a man who didn't think he qualified to be a WWP Alumnus.
"Yes, I was troubled by post-traumatic stress disorder (PTSD) from my service in Iraq. But my physical injury didn't happen during combat. It happened at Pope Army Air Field while we were preparing for an inspection. I don't even remember falling." 
John suffered heat stroke while working on a military vehicle and fell backward, striking his head on the ground. In order to save John, surgeons performed a decompressive hemicraniectomy, removing one sixth of his skull. 
"The injury intensified all the negative thoughts I already battled due to PTSD. Even after all this time, I still have a constant headache. If on a pain scale a bee sting rates a one, then my chronic headache is at least a three. The only thing that has ever helped is a positive outlook on life." 
John says he found that positive outlook when he found Wounded Warrior Project. 
"I am more proud of becoming a WWP Alumnus than any medal I earned in my 23 years of service. WWP is here for the complete warrior – mind, body, and spirit. They gave me the tools I needed to cope with life's challenges. They brought me from being reclusive to looking forward to each day with a positive outlook. I am able to attend functions with individuals who pass no judgment on me due to my appearance."
It's a message of hope that John wants to communicate to his fellow warriors.
"The true miracle is when a warrior who is thinking about taking his or her life, reevaluates the situation and chooses life. That's the impact we can have on each other."