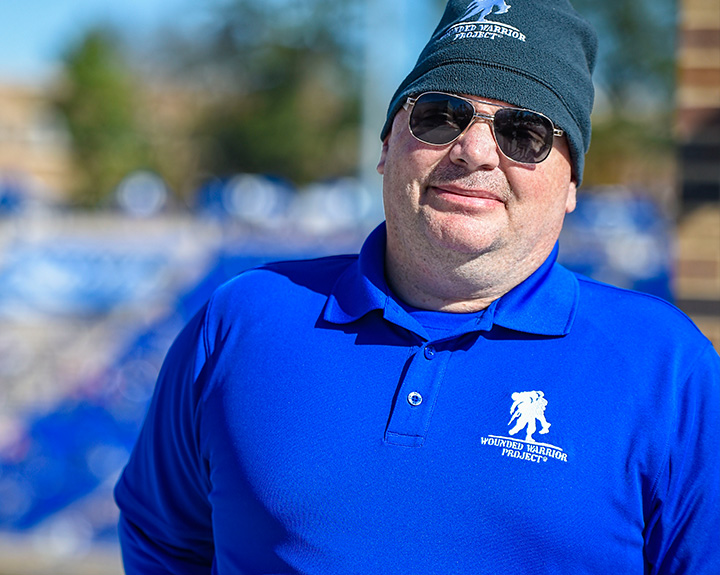 "I am more proud of becoming a WWP alumnus than any medal I earned in my 23 years of service."
John Goubeaux
John Goubeaux served his country for more than 23 years in the U.S. Air Force, starting out as an airplane mechanic and working his way up to aviation investigator. On his multiple deployments to the middle east, it was his job to sift through the wreckage when an aircraft went down, trying to find the cause. This emotional work left an indelible mark, but it didn't overtake his life until he fell off a truck and suffered a severe traumatic brain injury (TBI) in 2011. For the next three and a half years, John was a shut-in — living in a recliner inside his home with a constant headache from his TBI, crippling post-traumatic stress disorder (PTSD), and negative outlook on life.
"The injury intensified all the negative thoughts I already battled due to PTSD," says John. "Even after all this time, I still have a constant headache. If on a pain scale a bee sting rates a one, then my chronic headache is at least a three. The only thing that has ever helped is a positive outlook on life."
John found that positive mindset in 2014 when he connected with Wounded Warrior Project® (WWP). His first event was a college baseball game, and his walk to the pitching mound to be honored before the game turned out to be a moment he'll never forget.
"I couldn't keep up," says John. "But a fellow warrior saw me, and he came back to get me. He took me by the hand, and we walked together until we got to midfield. That is what the military and Wounded Warrior Project are all about. No one is left behind. No one is forgotten."
At that game, John also learned about two WWP programs that would change his life: Soldier Ride® and the Independence Program. "They gave me the tools I needed to cope with life's challenges," says John. "They brought me from being reclusive to looking forward to each day with a positive outlook."
Today, John is far from the man who wouldn't leave his own house. He goes to the gym almost every day to exercise with a life coach provided by the Independence Program. The duo also ventures outside the gym to participate in other activities, from learning to overcome John's fears in a crowded restaurant to volunteering in the community. When he comes home, he often jumps on his recumbent bicycle to go for a ride with his wife and caregiver, Vicky. Since John caught the cycling bug at a Soldier Ride in 2015, he's pedaled over 3,000 miles, and he and Vicky have lost a combined 50 pounds.
As a result of his physical and mental transformation, John found a new purpose — helping others. In 2020, he used his COVID-19 stimulus check to purchase a sewing machine and cloth and spent the next six months sewing nearly 1,000 masks for local hospitals and veterans in need. He also shares his infectious positivity whenever possible to make sure other warriors know there is hope — all you need is the right mindset.
"The true miracle is when a warrior who is thinking about taking his or her life reevaluates the situation and chooses life," says John. "That's the impact we can have on each other."