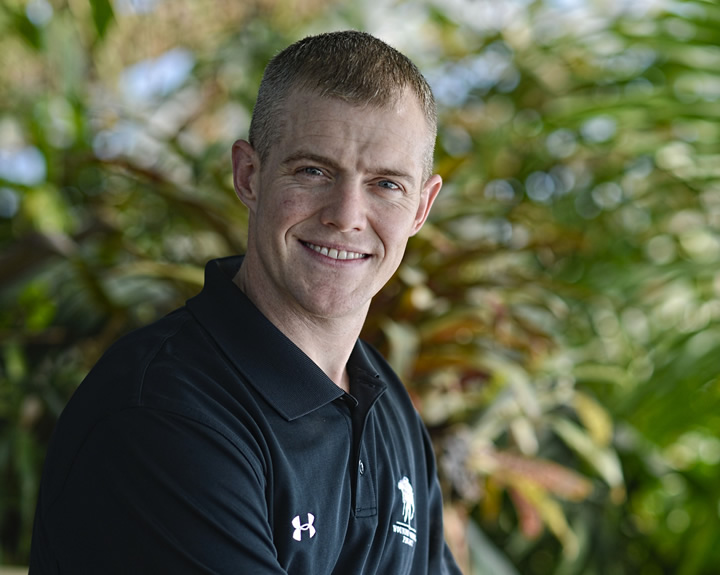 "It took me a while to realize that I'm never going to be the guy I was in the military. But I can use what I have to work with to become the best man I can be."
— John Rego
John Rego compares leaving the Army to a dog let off his leash. With no master to tell him where to be and no plans for life after service, John took off running straight into impulsive choices and bad decisions. 
"It's such a mental hardship to live a structured lifestyle that's given you discipline and responsibility, and then to go into a lifestyle that is free. Your civilian responsibilities aren't, in your eyes, as big as they used to be. It's a huge culture shock," John says.
John path toward medical retirement began on deployment to Iraq in 2003 when a building he and his fellow soldiers from the 75th Ranger Regiment were searching collapsed. Roofing and a steel I-beam cross-section crushed his body, leaving him with damage to his right arm, pelvis, ribs, stomach, bladder, and intestines.
John spent about a week in a coma, then another two months in the hospital. Shortly after that, he was home. While his body continued to heal, his mind struggled. As the only person seriously injured in the accident, John felt guilty for leaving his friends to finish the mission without him. He began to long for military life. John's frustrations manifested as weight gain. At his heaviest he weighed about 235 pounds — an increase of almost 60 pounds over his normal weight.  He was letting his injury define his life, and it had started to cause damage beyond just his physical body.
"I always looked at myself as an injured vet. I thought there was no way I'd ever be as good as I was. I thought because I was hurt, I couldn't go out and get active again," John says. 
That changed when John was contacted by a regional health and wellness coordinator for Wounded Warrior Project, who convinced John to take part in an Under Armour workout in Baltimore.  When he arrived at the gym, John saw a group of injured veterans who weren't letting their disabilities stand in the way of their health. He was impressed by the way each workout was designed to accommodate a warrior's injuries. 
"We had guys in wheelchairs and we had amputees there. It was pretty neat to be with a group of people who all had some physical disability, but we were all there to work out," John says.
John was hooked. Soon, he was competing in a Tough Mudder and exercising six days a week.  He learned to work the muscles around his injured areas in order to strengthen, but not stress, the places he was the weakest. For John, that meant plank exercises instead of situps or crunches, so that his stomach and intestines were not harmed.
"We worked on it more and more, and I got those supporting muscles stronger. Over time, I built back up. It was faster than you would believe," John says. "It changed my life."
In addition to strength training, a Wounded Warrior Project wellness class taught John to rely on healthy, all-natural ingredients, instead of processed food. The diet gave John more energy and improved his sleep. As the weight began to pour off, John's guilt and anxiety also decreased. John stepped into a positive cycle: the more weight he lost the better he felt about himself, which inspired him to push even harder. Physical wellness also contributed to his mental wellbeing.
"It took me a while to realize that I'm never going to be the guy I was in the military. But I can use what I have to work with to become the best man I can be," he says.
Beyond physical wellness, John's recovery was boosted with the birth of his son in 2012. Fatherhood pushed John to continue to improve his health, not for himself, but for his son. For the first time, he felt a sense of responsibility he thought he'd lost when he left the Rangers. 
"I want to make sure I'm healthy so I can be around for my son. Everything I do now is focused on creating a better life for him," John says.