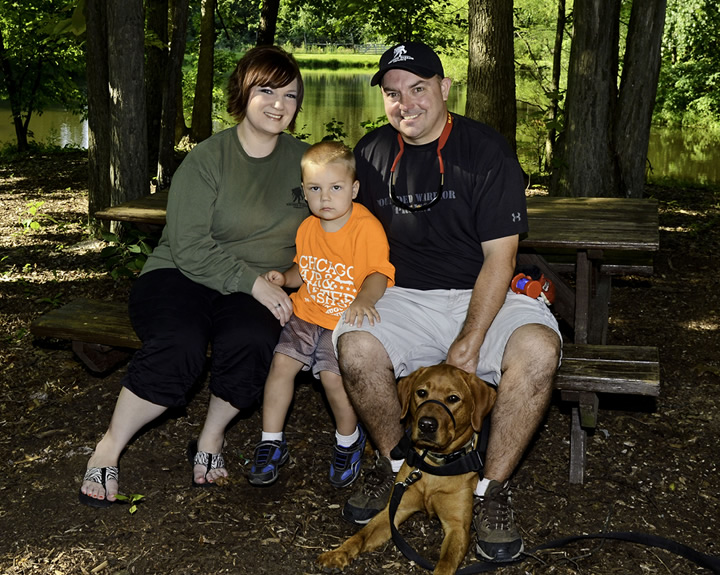 "You're a bigger man when you say 'Hey, I have a problem and I need help. That's a hard thing to do, but you got to do it."
— Nick Bennett
Nick Bennett was haunted for years by the rocket that nearly killed him in Iraq.
It chased him down the highway in Indianapolis, where he ran another driver off the road to escape its path. He saw it blowing up houses on a quiet neighborhood street. Again and again it exploded in his mind.
"I laugh when people say we're not at war anymore in Iraq," Nick says. "I live in Iraq every day of my life. The war is not over for a lot of us."
Nick's life with post-traumatic stress disorder started with a decision to reenlist in the Marine Corps in 2004. He previously served six years in the Corps as a communications specialist, but he didn't feel comfortable sitting at home when other Marines were fighting and dying.
"It's not that they couldn't do their job, but I had already lived my life," explains Nick. "I had already experienced a wife, I had already experienced kids. I would have been OK if anything would have happened to me so another Marine could come home and experience what I experienced."
The rocket blast came two months into his deployment in Mahmoudiyah, Iraq, when he was working security detail in front of the compound. It took 26 surgeries to repair his hands and legs and almost cost his life. But the blast was just as devastating to his mind.
When he returned home to Indianapolis, his marriage of 16 years fell apart. After seeing such sacrifice in Iraq, hearing his kids groan about taking out the trash or doing laundry would throw him into a rage.
Nick knew he needed help and someone who understood what he'd been through.
While being treated for post-traumatic stress disorder, he was introduced to Wounded Warrior Project and a new world of support from other warriors. From University of Notre Dame football games to fishing in Lake Michigan, each trip was an opportunity to share stories and open up about his experiences.
As Nick learned to deal with PTSD, his family relationships grew stronger as well. He remarried in 2008 and began working to help other veterans dealing with similar struggles.
The WWP events were also a way for Nick's family to witness his recovery. They saw him reconnect with Marines he hadn't seen since Iraq. They watched him learn through equine therapy that he can control a situation – and a horse – even with an injured hand.
While being interviewed by a camera crew at a WWP air and water show in Chicago, Nick's daughter heard his rocket story in its entirety for the first time.
"We healed together," Nick said. "If it weren't for WWP, I don't know when I would have ever healed with my little girl."
That same air and water show was also the first time Nick met vets who were benefiting from PTSD therapy dogs. Because of that connection, Nick started the process of being paired with a Fox Red Labrador named Festus, who helps him sit through thunderstorms without earplugs and go to the grocery store without panic.
All of this has led to a Nick who is still haunted by Iraq, but in control of his life.
"You're a bigger man when you say 'Hey, I have a problem and I need help,'" Nick says. "That's a hard thing to do, but you got to do it."