Project Odyssey® Veteran Retreat
USING NATURE AND RECREATION TO HEAL THE SPIRIT
With its name derived from Homer's epic poem about overcoming adversity and finding the way home, Project Odyssey helps you overcome combat stress through outdoor, rehabilitative retreats that encourage a connection with nature, your peers, Project Odyssey staff, and trained counselors. 
You have two opportunities to participate:
All-Male or Female Project Odyssey: Warriors face a range of challenges, and each individual's needs are deserving of attention and care. During this 90-day mental health program, you'll continue your journey toward recovery, make strides alongside fellow warriors at a multi-day event, and move forward with three months of follow-ups, goal-setting, and positive progress. From day one, and through all stages of your recovery, we are here for you every step of the way.


Couples Project Odyssey: Military experiences impact all relationships differently, and we're here to support every journey. During this 90-day mental health program, which includes a multi-day event, you'll learn skills to strengthen connections alongside a loved one, and continue with three months of follow-ups and support.
RETREAT ACTIVITIES
Through outdoor, recreational activities, you will discover inner strength and find the courage to continue your journey to recovery. The experiences gained from Project Odyssey help you work through challenges related to combat stress and improve veteran mental health and outlook. Activities include horseback riding, canoeing, whitewater rafting, kayaking, rock climbing, a high ropes course, fishing, skeet shooting, sled hockey, and skiing at retreats held in various locations across the country. You are encouraged to build new skills, connect with peers, and find veteran support groups for combat stress among Wounded Warrior Project® (WWP) staff and trained counselors.
The program does not end with the retreat. In fact, it is only the beginning as we facilitate continued support through WWP and other local combat stress resources. To participate, you must be approved by a Project Odyssey staff member, and register for our Alumni program.
For more information on Project Odyssey and how to apply, please contact projectodyssey@woundedwarriorproject.org.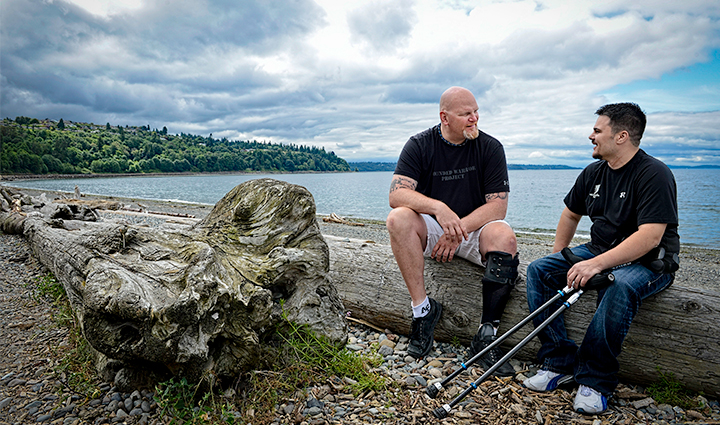 Participation Requirements
Currently seeking treatment for combat stress
Has never attended a Project Odyssey retreat before
Able to travel independently to the Project Odyssey location
Complete screening