The NFL supports WWP through the Salute to Service initiative each year. This year-long campaign not only provides critical fuel for WWP programs that focus on mental health, it also provides opportunities for warriors to connect with their peers, communities, and NFL legends through engagement events. These life-changing opportunities provided by the NFL can be a key driver to getting warriors out of their homes and connected with WWP's lifesaving programs.
NFL & WWP #COMBATSTIGMA AROUND MENTAL HEALTH
The NFL and Wounded Warrior Project® (WWP) are teaming up to #CombatStigma around mental health. NFL player Kenny Moore and wounded warrior Nick Morrison discussed their mental health struggles and the importance of reaching out for help – this openness is key to making ourselves, our families, our friends, and our communities healthier. Together, we can #CombatStigma.
---
SEE HOW THE NFL IMPACTS WOUNDED WARRIORS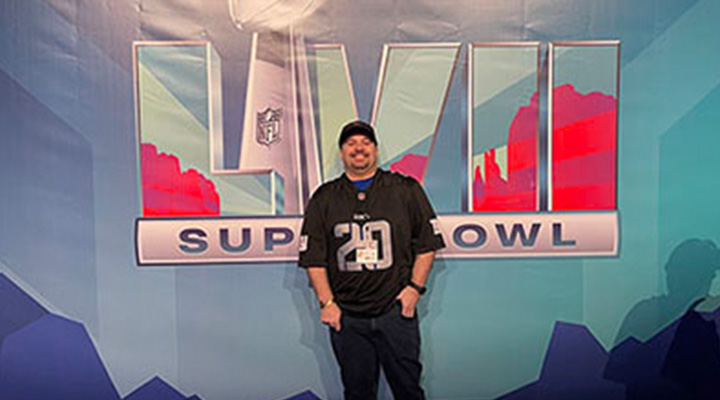 2022 NFL SALUTE TO SERVICE
The NFL has supported WWP through its year-round Salute to Service campaign for over 10 years. Learn about how the League and its players honored warriors during the 2022 season.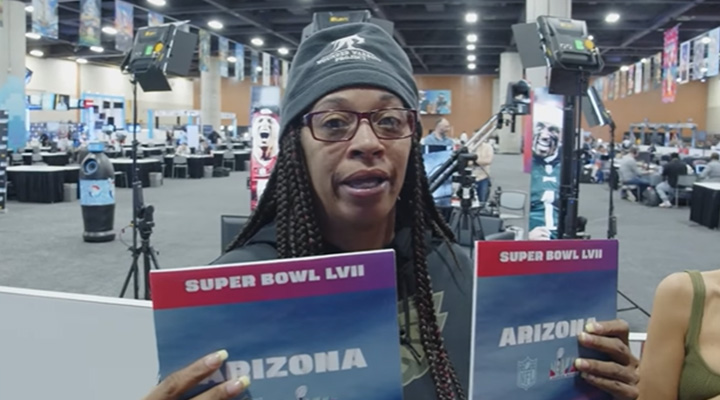 SUPER BOWL SURPRISE
Arizona Cardinal LB Victor Dimukeje and Philadelphia Eagles TE Zach Ertz surprised warrior Lisa Crutch, a die-hard Eagles fan, with Super Bowl LVII tickets.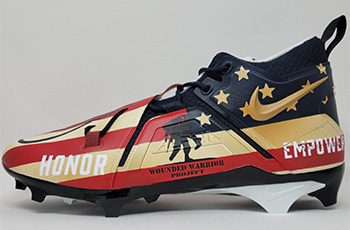 MY CAUSE MY CLEATS
Over the years, NFL players have graciously represented WWP on their cleats to show their support of injured veterans. Learn about the players who dedicated their cleats during the 2022 season.
Jags players got emotional when they wrote notes of thanks for combat veteran, strength coach, and wounded warrior Sean Karpf. The Jacksonville Jaguars shared this video at their 2019 Salute to Service game and on social media.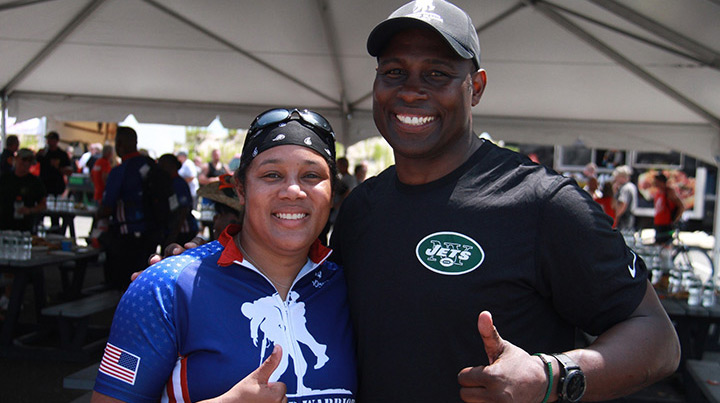 Thanks to a $500,000 donation from the NFL, WWP was able to replace the entire fleet of aging Soldier Ride equipment with new adaptive cycles that warriors will use during events across the country. Read Article.
Every year, Packers fan Ted Kopec travels from Sheboygan, Wisconsin to Orlando, Florida for WWP and NFL's Flag Football event the week of the Pro Bowl. This year, the NFL surprised him with a #RandomActOfGratitude that changed his experience.