Combined Federal Campaign
Wounded Warrior Project® (WWP) is proud to be a part of the Combined Federal Campaign (CFC) as charity #11425.
CFC is the world's largest and most successful annual workplace-charity campaign raising over $8.8 billion for eligible nonprofits since was established 60 years ago by President John F. Kennedy.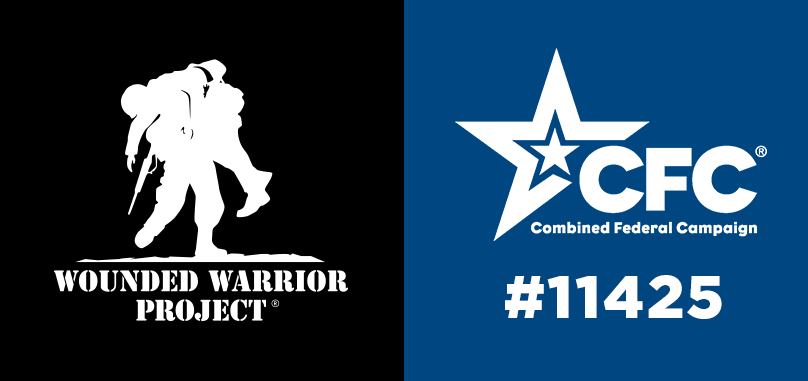 HOW YOU CAN GIVE
The official CFC Solicitation Period is September 1, 2022 - January 13, 2023. Click here to make your pledge online.  

WHO CAN GIVE
Federal employees and retirees are able to pledge support through the CFC. Pledges made by Federal civilian, postal, and military donors during the campaign season support eligible nonprofit organizations providing health and human service benefits throughout the world.

WHY GIVE
CFC provides an opportunity for federal workers to become involved in their communities and to have their giving efforts viewed as a direct extension of their commitment to public service.
A gift to Wounded Warrior Project® (CFC #11425) will help to transform the lives of injured veterans. $6 per paycheck ($156) will help provide a one-hour session of mental health treatment for one warrior, $15 per paycheck ($390) will help provide a safe voice on the other end of the phone for 27 warriors in need and $25 per paycheck ($650) will help provide support from claims specialists to help 17 warriors obtain military benefits.

MISSION OF THE COMBINED FEDERAL CAMPAIGN
Promote and support philanthropy through a program that is employee-focused, cost-efficient, and effective in providing all federal employees with the opportunity to improve the quality of life for all.

CONTACT US
If you have any questions regarding CFC or the involvement of Wounded Warrior Project in CFC, please contact the WWP CFC team at cfc@woundedwarriorproject.org.