Donation FAQs
Wounded Warrior Project is a direct service organization. 100% of your donation supports wounded warriors. About 72% -- nearly $250 million in fiscal year 2022 – was spent directly on programs and services for wounded warriors, families, and caregivers. The balance paid to support the delivery of this life-changing support.
More than 220,000 warriors, family members, and caregivers were registered with Wounded Warrior Project as of September 30, 2022. The need is great and growing. Every month in 2022, more than 1,780 warriors and family members registered with Wounded Warrior Project to receive our free programs and services.
WWP's monthly giving program is called Advance Guard. This program provides WWP with a reliable, low-cost source of long-term income for WWP programs and services. Simply fill out our online donation form or download a copy and mail it in today.
Unfortunately, WWP cannot direct funds to a geographic location or specific individual.
Please download and fill out our donation form, make your check payable to Wounded Warrior Project® and mail to:
Wounded Warrior Project
PO BOX 758516
Topeka, KS 66675
Donations made in honor of a loved one are always welcome. If you wish to make a memorial or honorary donation online, please use our online form. If you wish to mail in your memorial or honorary donation, please be sure to download and fill out a donation form to include with your check or credit card information.
When making a memorial donation to WWP, please make your check payable to Wounded Warrior Project® (WWP). If posting our address for an obituary requesting donations be sent to WWP in lieu of flowers, please use the following contact information:
Wounded Warrior Project
PO BOX 758516
Topeka, KS 66675
Wounded Warrior Project® will notify the family or individual of your gift if the name and address of the honoree is provided. You may enter this information on the bottom of our online and downloadable donation forms.
No, we do not state the donation amount unless specifically requested by the donor.
Receipts should be received by the donor 4-6 weeks after the donation is made.
Tax receipts are sent in January and February of the following year. For example, a 2022 tax receipt will be sent to the donor in January or February 2023.
Read through our information on planned giving and then contact us at 904.479.4485. We will provide you with additional information you need to consider when making this decision.
WWP does accept gifts of real estate in certain circumstances. The donation of real property raises significant practical and legal concerns, depending upon the circumstances. Please contact our office directly at plannedgiving@woundedwarriorproject.org and we can assess the situation on an individual basis.
Many companies offer matching gift programs that will double, even triple a donation's value. Even more, your company may also match gifts from spouses, retirees, and board members. Each gift will help foster the most successful, well-adjusted generation of wounded service members in our nation's history.
For full details on company matching gifts or to search for your company, please visit our Company Matching Gifts page.
We now have live chat.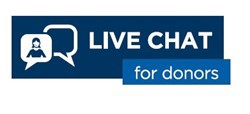 If you don't want to chat with us right now, we understand.
You can always call our Donor Care Team by calling 877.TEAM.WWP (877.832.6997) or feel free to email us at donorcare@woundedwarriorproject.org
Yes, Wounded Warrior Project® does host fundraisers throughout the year on Facebook.
We periodically hold Facebook challenges tied to a specific physical activity. You may see WWP Facebook ads for these challenges that will direct you to join a private group to participate in the challenge.
You may also see Facebook fundraisers hosted by WWP for holidays.  
You can confirm whether a fundraiser is legitimate by seeing if it's linked to our verified Wounded Warrior Project® Facebook page or our verified Wounded Warrior Project® Fundraisers Facebook page.
If you have any concerns about a particular fundraiser, you can always reach out to our Donor Care team at donorcare@woundedwarriorproject.org. If you have general Facebook fundraiser questions, please go to Facebook's Help Center: https://www.facebook.com/help/1409509059114623