Wounded Warrior Project FAQs
WWP was founded in Roanoke, Virginia by a group of veterans and friends who took action to help the injured service men and women of this generation.
Wounded Warrior Project® (WWP) was granted tax-exempt status by the Internal Revenue Service functioning as a charity under 501(c)(3) of the Internal Revenue Code. Donations to the organization are deductible as charitable contributions. The WWP Federal I.D. number for donations is #20-2370934. For information on the tremendous impact WWP is having on those we serve, please visit http://www.woundedwarriorproject.org/mission/how-we-serve.
We're a national organization and offer services to warriors throughout the nation, regardless of whether WWP teammates are in your area. We have field staff across the country.
The WWP mission is to honor and empower Wounded Warriors who incurred a physical or mental injury, illnesses, or wound, co-incident to your military service on or after September 11, 2001. You may also be eligible for the program if you are the family member or caregiver of a Wounded Warrior. 
WWP began as a small, grassroots effort to provide immediate assistance when a warrior of this generation was injured. We felt we could do the most good by providing more comprehensive programs and services to the newly injured, rather than spread ourselves too thin by trying to help all veterans. We also knew there were many terrific veterans' organizations for warriors from previous conflicts, but very few focused on serving our newest generation.
Sign up online for our WWP Alumni program. It's free to join. Throughout the year, we offer a wide range of events and activities around the country designed just for Alumni. These activities include sporting events, educational sessions, and social events that give individuals a chance to spend time with other injured service members. Alumni can also participate in many WWP activities and events for injured service members.
There is a distinct difference between members and alumni. Anyone can pay membership dues to an organization and call themselves a member. The term alumni indicates a mutual shared experience and denotes that your place in an organization was earned. WWP Alumni have earned their place in our organization and share common bonds of sacrifice. Furthermore, we do not ask for member dues because those who are eligible for membership have already paid their dues on the battlefield.
There are so many different ways to get involved and make a difference! Here are a few ideas:
Volunteer. Call your local VA medical center, and ask about volunteer opportunities.
Advocate for wounded service members. Call or write your congressional representatives or senators and urge them to make injured service members a legislative priority. Keep your ears open, too, on the WWP Facebook page for advocacy alerts with opportunities to sign petitions, write letters, and more.
Help raise awareness. Even the simplest efforts can make a difference. Help spread the word about the needs of wounded service members and the work of WWP in your home community. If you know an injured service member who might benefit from WWP's services, urge them to get involved – it's free!
Consider a financial gift. If you're in a position to do so, financial contributions are always greatly appreciated. Perhaps you might even host a fundraising event with your friends to benefit warriors!
Honor service members. If you know a service member, thank them for their service and sacrifices. These small gestures mean so much!
You can show your support for veterans by shopping with companies who support Wounded Warrior Project.
WWP provides more than 20 programs and services to injured service members and their families, in addition to numerous valuable resources. Please visit our Programs page and browse all our offerings that are categorized by Mind, Body, Economic Empowerment and Engagement.
Unfortunately, WWP does not offer these types of volunteer opportunities. We suggest contacting your local VA medical center for possible volunteer opportunities working directly with warriors.
Anyone can sign up to join our email list through our online subscription form. You'll receive the latest news about injured service members plus our monthly e-newsletter.
We cannot release names and contact information for WWP Alumni due to privacy concerns.
Injured service members and family members – register with WWP and you will receive email communications about upcoming events in your area.
WWP is not organized around branches or chapters. If you'd like to get involved in your area or host an event of your own, please visit our 'Get Involved' page.
WWP is a non-partisan organization, and we don't take a stance on the war. We believe that regardless of your politics or beliefs, the men and women in our nation's military have made tremendous personal sacrifices on our behalf, and deserve our respect and any assistance we can provide. It's about the WARRIOR, not the WAR.
Donation FAQs
Wounded Warrior Project is a direct service organization. 100% of your donation supports wounded warriors. About 72% -- nearly $250 million in fiscal year 2022 – was spent directly on programs and services for wounded warriors, families, and caregivers. The balance paid to support the delivery of this life-changing support.
More than 220,000 warriors, family members, and caregivers were registered with Wounded Warrior Project as of September 30, 2022. The need is great and growing. Every month in 2022, more than 1,780 warriors and family members registered with Wounded Warrior Project to receive our free programs and services.
WWP's monthly giving program is called Advance Guard. This program provides WWP with a reliable, low-cost source of long-term income for WWP programs and services. Simply fill out our online donation form or download a copy and mail it in today.
Unfortunately, WWP cannot direct funds to a geographic location or specific individual.
Please download and fill out our donation form, make your check payable to Wounded Warrior Project® and mail to:
Wounded Warrior Project
PO BOX 758516
Topeka, KS 66675
Donations made in honor of a loved one are always welcome. If you wish to make a memorial or honorary donation online, please use our online form. If you wish to mail in your memorial or honorary donation, please be sure to download and fill out a donation form to include with your check or credit card information.
When making a memorial donation to WWP, please make your check payable to Wounded Warrior Project® (WWP). If posting our address for an obituary requesting donations be sent to WWP in lieu of flowers, please use the following contact information:
Wounded Warrior Project
PO BOX 758516
Topeka, KS 66675
Wounded Warrior Project® will notify the family or individual of your gift if the name and address of the honoree is provided. You may enter this information on the bottom of our online and downloadable donation forms.
No, we do not state the donation amount unless specifically requested by the donor.
Receipts should be received by the donor 4-6 weeks after the donation is made.
Tax receipts are sent in January and February of the following year. For example, a 2022 tax receipt will be sent to the donor in January or February 2023.
Read through our information on planned giving and then contact us at 904.479.4485. We will provide you with additional information you need to consider when making this decision.
WWP does accept gifts of real estate in certain circumstances. The donation of real property raises significant practical and legal concerns, depending upon the circumstances. Please contact our office directly at plannedgiving@woundedwarriorproject.org and we can assess the situation on an individual basis.
Many companies offer matching gift programs that will double, even triple a donation's value. Even more, your company may also match gifts from spouses, retirees, and board members. Each gift will help foster the most successful, well-adjusted generation of wounded service members in our nation's history.
For full details on company matching gifts or to search for your company, please visit our Company Matching Gifts page.
We now have live chat.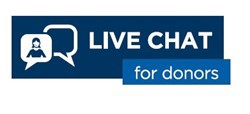 If you don't want to chat with us right now, we understand.
You can always call our Donor Care Team by calling 877.TEAM.WWP (877.832.6997) or feel free to email us at donorcare@woundedwarriorproject.org
Yes, Wounded Warrior Project® does host fundraisers throughout the year on Facebook.
We periodically hold Facebook challenges tied to a specific physical activity. You may see WWP Facebook ads for these challenges that will direct you to join a private group to participate in the challenge.
You may also see Facebook fundraisers hosted by WWP for holidays.  
You can confirm whether a fundraiser is legitimate by seeing if it's linked to our verified Wounded Warrior Project® Facebook page or our verified Wounded Warrior Project® Fundraisers Facebook page.
If you have any concerns about a particular fundraiser, you can always reach out to our Donor Care team at donorcare@woundedwarriorproject.org. If you have general Facebook fundraiser questions, please go to Facebook's Help Center: https://www.facebook.com/help/1409509059114623